The Cuyahoga County Public Library Collection
A Brief History of the Cuyahoga County Public Library
In 1921, the State Legislature of Ohio passed a law which enabled the establishment of a county district library for any area not served by a free public library, subject to a vote of the people. A referendum was placed on the November 7, 1922, general election ballot authorizing a county library district. The issue passed by more than two to one, making Cuyahoga County Public Library the first county library in Ohio to be organized under the new law. The original petition called for the inclusion of all of Cuyahoga County not then served by an existing public library. In 1922, only eight communities had tax-supported library service and only a few other communities had libraries supported by private funds.
The newly-appointed Library Board met on March 4, 1923. Because its members wanted to provide immediate service, the new County Library System began operations as a department of the Cleveland Public Library and reimbursed it for all services rendered. From the beginning, however, County Library hired its own personnel, purchased and processed its own books.
Making library service available through the schools in the new district proved to be the best way to serve residents eager for a library. Many schools had ample space and were willing to make quarters available rent-free. According to the first County Library Report covering the period from April 1924 through December 1925, eight branches and 49 stations and classroom libraries were opened. The book stock figure was 45,468 and the circulation for the first 21 months of operation was 285,569.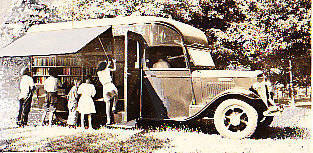 Bookcar with the side flap open 1930?
In May of 1925, the County Library moved from its rented quarters in the Kinney & Levan Building at East 14th Street and Euclid Avenue to the Crown Annex Building on West Third Street. Book cars, followed by bookmobiles, gave way to branch libraries as local communities saw the value of having a library which served as a community center rather than just a warehouse for books.
In the late 1940s the regional library concept was born: the combined resources of four large strategically placed regional libraries would equal a large main library. Each had a strong reference collection as well as materials suited to the local community. They grew to have in-depth collections and subject specialists in specific areas of study.
From 1955 to 1965, 20 new branches were added to the Library System and four existing branches were expanded. Annual circulation grew to six million items. In 1968, the Library's administrative offices and support services were relocated to a building purchased by the Board of Trustees at 4510 Memphis Avenue, in Cleveland.
By the mid-80s, circulation had grown to more than 10 million items annually and technology presented needs that required a move to a new building. In 1990, administrative offices were moved to a 9-acre campus at 2111 Snow Road, in Parma.
Cuyahoga County Public Library ranks as one of the nation's ten busiest and best library systems. It has 27 branches that serve 47 communities.