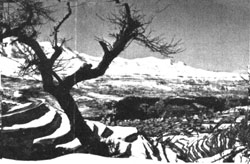 A solitary Cedar overlooks the village of Bcharre Birthplace of Khalil Gibran
(Cedars of Lebanon are famous since biblical times. They grow in the snow-covered mountains. Today, they are practically extinct -- the 100 left are protected as national monuments.)
---
FOR THEIR INVALUABLE SUPPORT IN PROVIDING HISTORICAL INFORMATION, TECHNICAL ASSISTANCE AND ENCOURAGEMENT, THE AUTHOR OF THIS BOOK EXPRESSES GRATEFUL APPRECIATION TO:
Linda George Anter

Anne Shibley Bird

Michael S. Caraboolad

George Caraboolad

Lucille A. Courey

Naissef and Rita Anter Courey

Helenie (Mrs. Khalil) Farage

Lenore Haney Flynn

Henry George

Burt Haddad

Isabel A. Haddad

Josephine H. Haddad

Wedad Mouhaissan Hasan

Barbara (Mrs. Attulah) Jacob

Rose (Mrs. Abdatlah Suri) Joseph

Carolyn Kaim Koury

Sister Mary Loyola

George & Nora Macron Maloof

James Dodman Nobel

George and Fredericka Parmelee

Jaber & Victoria Ellis Said

Raymond Shibley

Lucretia Stoica


---
Dedicated with Gratitude and Love
To my father, Michael Elias Haddad, the head of our house, and to my mother, Eugenie (Jennie) Bowab Haddad, who was its tender and courageous heart; to all those loving parents, grandfathers and grandmothers, uncles, aunts and cousins who yearned and struggled to give today's Americans of Arabic heritage a home in freedom; and to the children dwelling in the "house of tomorrow," who are the fulfillment of the promise.
Mike and Jennie Haddad in Confectionery in Canton, Ohio - 1922. In background at cigarette counter, Joseph and Elias Bowab.