---
SOME ARABIC SPEAKING ORGANIZATIONS IN GREATER CLEVELAND
Lebanon-Syrian Women's League
The Union of Arab Women
The Syrian American Club
Arabian Nights
St. Elias Melkite Byzantine Church
St. George Syrian Antiochian Church
St. Maron Church
St. Michael Coptic Church
The Islamic Center of Cleveland
The Arab Social Club
Federated Lebanese-Syrian Clubs
Aiteneet Brotherhood
Stars of Lebanon
Kirby Club
Greater Cleveland Association of Arab Americans
The Aramoon Club
Ramallah Club
United Holy Land Fund
Organization of Arab Students
ALSAC - American Lebanese Syrian Associated Charities
---
DANNY THOMAS AMD A DREAM ALSAC AND ST. JUDE
He was young, a struggling entertainer down on his luck. The church was quiet and dark as he made his promise.
Years later Danny Thomas was invited by a childhood Toledo friend, Beulah Geha Macron, to be the guest speaker before a Melkite Convention sponsored by her parish, St. Elias in Cleveland.
To a group of hundreds of Cleveland Syrian-Lebanese, Danny Thomas talked about the promise and laid out his plans.
There were skeptics who thought it couldn't be done, but there were others who were inspired by the vision of an "American Lebanese-Syrian Associated Charities" which would be the catalyst in building a hospital and research center for children with catastrophic diseases.
That was the promise which had been made in the darkened little church in 1940 by a man looking for a break. Now he was asking the Arabic-speaking people all over the country to help him fulfill it.
The promise had been made to St. Jude Thaddeus, the patron of the despairing and hopeless. What better return for favors granted than a hospital to aid children who heretofore had been doomed to certain death by their vicious diseases.
In this way, ALSAC came into being. Of all Arabic oriented organi­zations, ALSAC is the only associated charities group with a singular purpose -- to raise funds to support the children's hospital in Memphis, Tennessee.
---
ALSAC has a double name -- the second being "Aiding Leukemia Stricken American Children," a phrase used for many years, although the hospital today treats patients with other catastrophic illnesses as well, many of the children coming from other countries.
Thomas found friends throughout the United States to share his dream. Not all were Lebanese or Syrian. Hollywood entertainers, broad-way performers, people of all persuasions, and in all walks of life were drawn to the dream.
There was, among these, Edward Barry, a Memphis businessman and full time humanitarian who was devoting his efforts to a dozen health, welfare and educational agencies, when Danny Thomas put his ideas before him long before the hospital was built.
Mr. Barry guided the dream into a reality and has served as chair­man of the Board of Governors of St. Jude Hospital since it was opened in 1962.
Among the Arabic speaking Americans who caught the dream were Michael F. (Iron Mike) Tamer, an Indianapolis businessman who became the first National Executive Director of ALSAC, serving wholeheartedly in the ALSAC cause until his death seventeen years later.
Another charter member, Richard C. Shadyac, a prominent Washington attorney, of Irish-Lebanese ancestry served as interim director upon Tamer's death, lending his professional expertise to the effort. Dick Shadyac currently serves on the Board of Directors and Governors of ALSAC and of St. Jude Hospital.
---
A number of Clevelanders were among the first ALSAC Volunteers. Prominent among them were Msgr. Joseph Feghali, George Maloof, Emily Ganim, Edward Anter, Ida Morad Tolaro, Minor George, Edward Esber, Eli Naffah, James Oakar, Edward Aftoora, Danny Maloof and Phil Atol.
George Maloof, a Cleveland investor, has spearheaded ALSAC activ­ities in the Ohio area since the organization's earliest years. Today he serves on the Executive Board of Governors, and on the Scientific Advisory Board of St. Jude Hospital.
The American Lebanese Syrian Associated Charities, from the beginning, included people of all races and creeds.
Since its opening in 1962, St. Jude Children's Hospital has treated more than forty-five hundred children from thirty-five states and eight foreign countries. None of these patients or their families have ever received a bill from St. Jude's.
In 1966, Danny Thomas and Edward Barry burned the mortgage on St. Jude Hospital before ALSAC members' meeting in convention.
Today, St. Jude Children's Research Hospital is the largest child­hood cancer research hospital in the world, in terms of numbers of patients and treatment successes.
Its clinical and research findings are shared with physicians and scientists throughout the world, thus extending the benefits of its own work to much of humanity.
Research at St. Jude extends beyond the study of leukemia and other blood related diseases. Virologists at St. Jude are studying the possible
---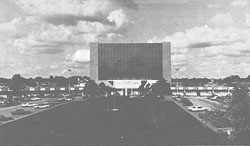 St. Jude Research Hospital for Children Memphis, Tennessee
---
transmission of influenza from wild birds and barnyard animals. One of the most recent research projects is on the prevention of strokes in patients with sickle cell anemia.
It is only twenty-three years since Danny Thomas carried his dream to the people of his own heritage, and less than twenty since St. Jude opened its doors to the desperately sick children of the world.
Today, Americans of all nationalities keep the dream alive by their dedication to the goals of ALSAC and St. Jude's.
St. Jude Hospital is a living tribute to a man who kept his promise.
---
YOU HAVE YOUR LEBANON AND I HAVE MY LEBANON
You have your Lebanon and its dilemma. I have my Lebanon and its beauty. Your Lebanon is an area for men from the West and men from the East. My Lebanon is a flock of birds fluttering in the early morning as sheperds lead their sheep into the meadow and rising in the evening as farmers return from their fields and vineyards.
You have your Lebanon and its people. I have my Lebanon and its people . . .
Let me tell you who are the children of my Lebanon. They are the farmers who would turn fallow field into garden and grove.
They are the shepherds who lead their flocks through the valleys to be fattened for your table meat and your woolens.
They are the vine-pressers who press the grape to wine and boil it to syrup.
They are the parents who tend the nurseries, the mothers who spin silen yarn.
They are the farmers who harvest the wheat and the wives who gather the sheaves.
They are the builders, the potters, the weavers and the bell-casters.
They are the poets who pour their souls in new cups.
They are those who migrate with nothing but courage in their hearts and strength in their arms but return with wealth in their hands and a wreath of glory upon their heads.
They are the victorious wherever they go and loved and respected wherever they settle.
They are the ones born in huts but who died in palaces of learning.
---
These are the children of Lebanon; they are the lamps that cannot be snuffed by the wind and the salt which remains unspoiled through the ages.
They are the ones who are steadily moving toward perfection, beauty and truth.
What will remain of your Lebanon after a century? . . . Except bragging, lying and stupidity? . . . I say to you, while the conscience of time listened to me that the songs of a maiden collecting herbs in the valleys of Lebanon will outlast all the uttering of the most exalted prattler among you . . .
You have your Lebanon and I have my Lebanon.
Kahlil Gibran . . . circa 1928 -
during Mandate of Lebanon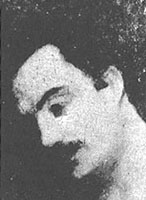 KAHLIL GIBRAN . . . prophetic words
---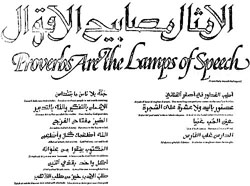 ---