Cleveland's Forgotten Freeways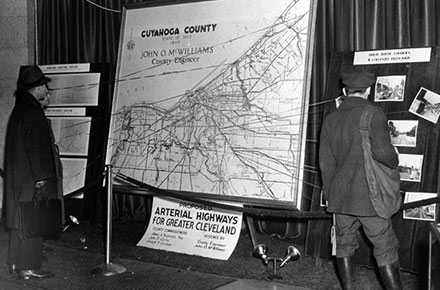 Proposed arterial highways for Greater Cleveland exhibit, 1940.
The freeway revolts were a phenomenon that took place across the nation during the 1960's and 1970's. The revolts were in response to the many freeway routes that were proposed without due consideration for the neighborhoods that would be demolished, or the people who would be displaced.
In Cleveland, the battle centered around the proposed Clark, Lee, and Heights Freeways. The proposed routes would have partitioned Shaker Heights and Cleveland Heights, costing houses and businesses and affecting a nature preserve, the Shaker Lakes.  The residents of these suburbs banded together, and fought the proposed freeways and the county engineer Albert S. Porter, and Governor James Rhodes to a standstill. 
Today, instead of an interchange of two freeways, the Nature Center at Shaker Lakes is used by the residents of both Shaker Heights and Cleveland Heights, to teach environmental education.
We present 17 route location studies, including the proposed routes for the Clark, Lee and Heights freeways that were never built, as well as the original study that started it all in 1955.
Route Location Studies
Additional Resources
Credits and Appreciation
This website is the practicum project of Library and Information Science student, Linda Doll. She would like to thank the following from the Michael Schwartz Library at Cleveland State University: Bill Barrow, Special Collections Librarian; Lynn Bycko, Special Collections Specialist; Joanne Cornelius, Supervisor, Digital Production Unit; Kiffany Francis, Metadata/Communication Librarian; Lauren Felder, Web Specialist; and Andrew Cole, Digital Production Unit Student Assistant. She would also like to thank Jocelyn Clemings, Public Information Officer and Curtis L. Wills, Jr., Transportation Technical Specialist, Map Room from the Ohio Department of Transportation, District 12: Serving Cuyahoga, Lake & Geauga Counties.