The Photographs of Glenallen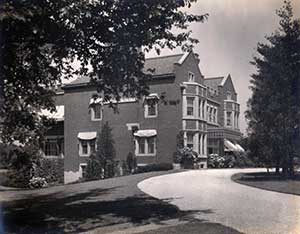 Side view of Glenallen Estate
About Glenallen
Glenallen, the estate of Elisabeth Severance Allen Prentiss, was located at the northeast corner of Mayfield and Taylor Road in Cleveland Heights, across from John Severance's (1863-1936) estate, Longwood, and next to Ben-Brae, the estate of Julia Severance Milliken. Glenallen was designed in the English manorial style in 1914 by Charles Schweinfurth for Elisabeth Severance and her husband Dudley P. Allen (1852-1915). Elisabeth Severance was remarried in 1917 to Francis Fleury Prentiss (1859-1937).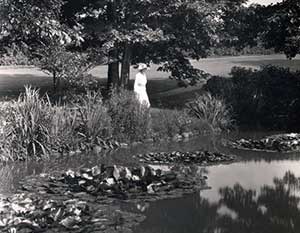 Elisabeth Severance Allen Prentiss standing next to a pond at Glenallen
Glenallen, situated on 45 acres of land, was known for its landscape.  It was featured in The Complete Garden by Albert Taylor.  The grounds had several unique features, such as a Japanese Garden with a goldfish pond and a Korean Pavilion shipped directly from Korea.  The interior of the estate featured inlaid oak floors, marble fireplaces, fine art, and a carved mahogany woodwork.   
After the death of Mrs. Prentiss in 1944, the estate was demolished in 1945 by the Broadway Wrecking Company.  The land was purchased by Gabriel Feigenbaum, Leighton A. Rosenthal, & Gabriel Leeb, who sought to develop it into "Prentiss Park," 100 hundred homes selling for $15,000.  Although a few homes were built, the land was primarily used as the site for the Jewish Community Center (1960) and is currently the home of Lutheran East High School and Bluestone condominiums.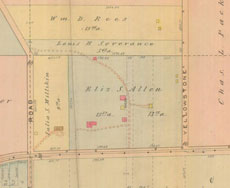 1914 plot of Elisabeth S. A. Prentiss' land, which would expand in 1920.
Although very little remains of the Glenallen Estate, a few remnants are still visible on the original land plot. The remnants include:
The stone wall that runs along Mayfield Road.
The stone pier at the southeast corner of the Lutheran East property.
A bridge behind a home on Glen Allen Road.
A low stonewall behind the homes on the south side of the streets near the intersection of Woodridge and Edison Roads.
An old farmhouse at 3555 Birch Tree Path
Source:
A Pictorial Tour of "Glen Allen". Cleveland Heights Historical Society. (http://www.chhistory.org/Places.php?PlacesContent=GlenAllen)