The Viktor Schreckengost Collection
Who was Viktor Schreckengost?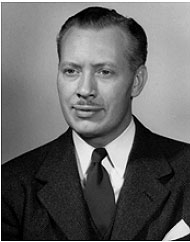 Viktor Schreckengost, the "American DaVinci" was a Cleveland artist, teacher and industrial designer who reshaped the field of American design and influenced generations of students. Mr. Schreckengost combined artistic and functional brilliance in his designs for product ranging widely from pedal cars, printing presses, and kitchen appliances to furniture, dinnerware, and toys. He also created hundreds of watercolors, sculptures, and decorative ceramics including the iconic "Jazz Bowl."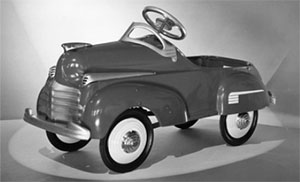 Schreckengost pedal car
Mr. Schreckengost founded the first industrial design program in the nation at the Cleveland Institute of Art. For more than 70 years, he instructed nearly 1,000 students, who have produced billions of dollars of successful products for American industry.
His honors include a Gold Medal from the American Institute of Architects. At age 100, he received the National Medal of the Arts from President George W. Bush during a White House ceremony. Viktor Schreckengost passed away in 2008 at age 101.
About the Collection
The Schreckengost Collection, dating back to the 1920s, includes job folders with correspondence, sketches, blueprints, and contracts with other prominent firms in the Cleveland area who participated in a particular job. Companies and organizations with which Viktor was associated during his career are included in the archives. The collection is housed in Special Collections at the Michael Schwartz Library, Cleveland State University. See the Schreckengost Collection Finding Aid or read the brochure.