Following the establishment of the Veterans Administration in 1930, that decade and the next gave rise to two new V.A. medical facilities in the Greater Cleveland area and planted the seeds for the development of a third. The Broadview Veterans Administration Hospital (Blossom Hill), which opened ca. 1940, did double duty as a hospital for highly contagious tuberculosis patients. It closed in 1965 due to declining occupancy.
Prisoner of war barracks at Crile Hospital held
German prisoners during WWII. View image.
The Crile Hospital in Parma Heights, started out as a temporary army hospital when it opened in 1943. It was built by the U.S. Army and named in honor of Col. George W. Crile Sr., noted surgeon, researcher, and founder of Cleveland Clinic. In 1946, it was acquired by the Veterans Administration and converted into a general medical and surgical hospital for all veterans. Crile Hospital specialized in ophthalmology, the recovery and rehabilitation of paraplegics, and reconstructive hand surgery. During World War II, Crile Hospital also served as barracks for German POWs and, during the Cold War, it was a Nike Missile site.
A plan to build a third facility on East Blvd. near Wade Park on 20 acres acquired by the V.A. in 1948 was bounced around in Congress for more than a decade until it was finally approved in in 1960. When the Wade Park V.A. Hospital opened in 1964, Crile Hospital was vacated and the property was subsequently sold to Cuyahoga County and would become the location of Cuyahoga County College's Western Campus.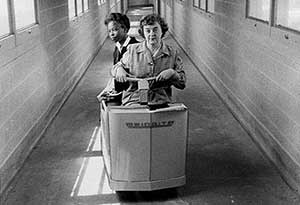 Brecksville V.A. Hospital, connecting corridor,
widget & employees, 1961. View image.
In 1956 construction began on a 999-bed, $23 million hospital in Brecksville for the treatment of psychiatric/neurological patients. The Brecksville V.A. Hospital opened in 1961. The 102-acre "campus" on Brecksville Road included 16 buildings and offered such amenities as a swimming pool, a 6-lane bowling alley, a baseball field, a gym, a theater, a chapel, and at one time, a fishing pond. Hospital staff navigated the corridors connecting the buildings in electric carts called widgets. The facility became nationally recognized for its role in pioneering treatment of gambling addiction, substance abuse and Post-Traumatic Stress Disorder.
In 1971, after operating as separate facilities, each with its own budget and director, the Brecksville and Wade Park hospitals merged. Surgical patients in Brecksville were transferred to Wade Park; neurological/psychiatric patients from Wade Park were transferred to Brecksville. In 1999, the Wade Park facility was renamed the Louis Stokes Cleveland V.A. Medical Center in honor of the former U.S. Congressman.
A decision was made in 2004 to consolidate all patient care at the Stokes Cleveland V.A. Medical Center, saving the V.A. about $23 million per year. In preparation for the consolidation, Stokes Cleveland was renovated and an additional 222-bed tower, administrative office building, a 122-bed homeless domicile and a parking garage were constructed on the campus. A formal dedication of the updated facilities was held on May 16, 2011. The Brecksville facility was decommissioned at a ceremony on September 5, 2011, the 50th anniversary of its opening day.