Cleveland Breweries Remembered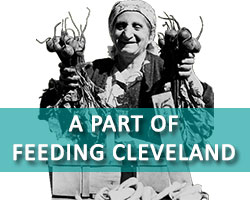 This web exhibit showcases images of buildings, people and brands documenting the history of the Cleveland brewing industry through the 19th and 20th centuries.  Images from this exhibit can be found  in the Cleveland Press Collection located in the Special Collections located in the Michael Schwartz Library at Cleveland State University. 
Fermented grains have been a staple of humanity since it was first documented in Sumerian civilization and have followed civilized culture wherever it roams.  Some have even speculated that human cultures shifted from hunter-gatherers to agriculture to have enough grains available for fermentation.  It is important to recognize the roles fermented grains have played throughout the millennia for human cultures and the diversity found in beer producing regions around the globe. 
The story of Cleveland breweries is as old as the city itself.  Small brewery operations followed settlers to the area and established themselves near the Cuyahoga River. Before refrigeration, a period of local taverns flourished, where beer was produced locally and drank locally, creating a diverse entrepreneurial marketplace for immigrants arriving to the area from Ireland, Germany, Czechoslovakia and other beer producing regions of Europe.  Competition was fierce and thirsts were mighty in Cleveland.
Prohibition agents watch beer storage tanks emptied into sewer at Leisy Brewery, 1923
By 1910, there were 26 breweries operating in Cleveland competing for market share.  Competition drove breweries towards consolidation and the pursuit of larger and larger markets, most notably the Cleveland & Sandusky Brewing Company.  This all came to an end with the passage of the Volstead Act in 1919.  Prohibition forced breweries out of operation or into production of near beer and soft drinks. 
After the Temperance movement ended in 1933, several Cleveland area breweries started producing beer including the Standard Brewing Company, Pilsener Brewing Company, Leisy Brewing Company, and the Brewing Corporation of America later renamed the Carling Brewing Company.  Brands like Black Label and Red Cap, Erin Brew, Black Forest, Leisy's and P.O.C. were standards at picnics and ballgames in Cleveland for decades. 
Over time though, it is sad to say that all the original Cleveland breweries slowly buckled under the pressure from national competition through the 1960's and 70's, with the last of the breweries ending operations in 1984 at the old Carling plant.
…But the story didn't end there.  In 1988, the Conway brothers launched the Great Lakes Brewing Company located in the old Market Tavern near the West Side Market in Ohio City.  So after a long wait, quality local beer has finally returned to the City of Cleveland.
Drink responsibly!
For Further Reading:
Acknowledgements
This website is the practicum project of Library and Information Science student, Matt Gambrill. Special thanks go out to the following from the Michael Schwartz Library at Cleveland State University: Bill Barrow, Special Collections Librarian; Lynn Bycko, Special Collections Specialist; Joanne Cornelius, Supervisor, Digital Production Unit; and Kiffany Francis, Metadata/Communication Librarian.