Visit Us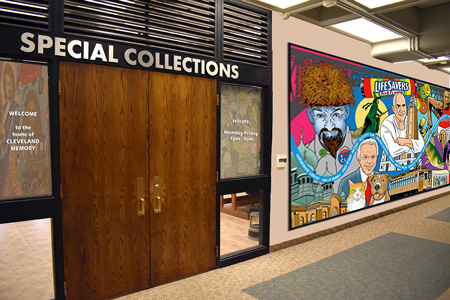 If your curiosity has been piqued by what you've seen here and you want to learn more about local history, or if you are a serious researcher needing to consult some primary resources, you can visit us in the Special Collections area at the Michael Schwartz Library, Cleveland State University. The majority of the images and text used on this site are taken from historical materials held right here.
You can find us at:
Cleveland State University
Michael Schwartz Library, Rhodes Tower 321
Directions & Parking
Telephone: (216) 687-6998
Our regular hours are Monday through Friday from 1 pm to 5 pm and mornings by appointment, but the hours of operation are subject to change during holidays and semester breaks. Consult the library's hours for any revisions.
Questions about local history matters are answered by the Special Collections Librarian and staff. While we cannot engage in major research projects for people, or do student papers for them, we can and do perform quick answers for free and some limited amounts of lengthier work for an established fee. We are happy to assist teachers and school media specialists and librarians with any questions they receive and cannot answer with the resources at their disposal.
Tip: Many basic questions about Cleveland history can be answered by the Encyclopedia of Cleveland History, which is available on-line. It's a wonderful resource!