CSU Theatre History Collection
Student theatrical productions at Cleveland State University have been a continuous part of student life on campus from before 1923 when the Cleveland Young Men's Christian Association education program first started offering college level courses at The Cleveland YMCA School of Technology and Fenn College, CSU's predecessor school. During the 1930's Fenn's student drama organization was variously called The Players of Fenn College and simply The Players, before becoming commonly known as The Fenn Players.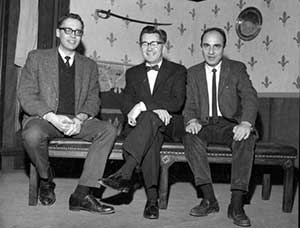 (L-R) Joseph J. Garry Jr., Prof. George Srail, & Daniel T. Pournaras at She Stoops to Conquer, 1966.
Early stage productions were produced in the auditorium of either the Central YMCA or the "Medical Building". Later Fenn productions were staged in Fenn Tower's Panel Hall and Stilwell Hall auditorium. The person most responsible for developing The Fenn Players was Professor George Srail of the Speech Department. Between 1946-1965, Srail directed many of the productions as well as writing a number of original scripts for The Players. Srail was also chiefly responsible for establishing at Fenn the Kappa Zeta chapter of Alpha Psi Omega, the National Theater Honorary Society.
In 1965 Fenn College was taken over by the State of Ohio and became The Cleveland State University, The Fenn Players became the CSU Players, and Joseph Garry was hired and took over direction of student drama productions. Under Garry there was a major production by the CSU Players each quarter that ran for at least two weekends. From 1965-1969 CSU Players' productions continued to be staged in Fenn Tower's Panel Hall or Stilwell Hall auditorium.
On November 21, 1969 the Theater Department open it's presention of The Connection by Jack Gelber, and directed by Garry, at its new Factory Theatre in the Theater Arts Building, a converted former warehouse. The production also marked the discontinuation of the name CSU Players. In November 1970 Garry directed a production of Aristophanes' The Birds, which was the debut of the CSU Dance Company. In March the production was invited to perform at the prestigious College Theater Festival at George Washington University Centre.
The production of Jose Rivera's Marisol, directed By Holly Holsinger, opened in the Allen Theatre Complex's Second Stage on February 23, 2012. It was the Department's first production in its new home in the Middough Building in Cleveland's Playhouse Square where a $30 million reconfiguration offers CSU students three state-of-the art performance venues in the nation's largest theatre district west of Broadway in New York City.
Additional Information