Top 100 Greatest Cleveland Indians Roster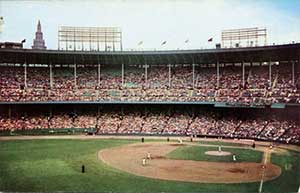 Cleveland Indians in action at Cleveland Municipal Stadium .
To celebrate the 100th anniversary of the Cleveland Indians in 2001, the Cleveland Indians organization released a roster of the top 100 greatest Indians, as selected by a panel of veteran baseball writers, historians and executives.
Of the more than 1,500 men who played for the Indians throughout their history, these players are notable for their presence, ability, achievements, and popularity. To further commemorate these players, Cleveland Memory has complemented the roster with photos of the players, where available.
See Top Players by Position:
Also of Interest: