Reed v. Rhodes (C73-1300)
422 F. Supp 708, 796-97 (N.D. Ohio 1976), aff'd, 662 F.2d 1219 (6th Cir. 1981)
Case Overview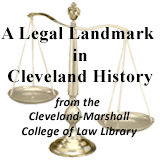 The story of the desegregation of the Cleveland Public Schools spans decades. The first rumblings of discontent were voiced by African American parents in the late 1950s. The angry shouts of protesters reverberated through the city streets during the early 1960s. Against this backdrop, the National Association for the Advancement of Colored People (NAACP) voiced its objections to the educational system in Cleveland, suing the Cleveland Public Schools and the State of Ohio in 1973. In Reed v. Rhodes, Case No. C73-1300, the plaintiffs alleged that the defendants intentionally created and maintained a segregated school system based on race in violation of the 14th Amendment to the United States Constitution.
The controversy surrounding the racial segregation of the school system divided the community and resulted in an even more controversial decision by Judge Frank J. Battisti of the United States District Court for the Northern District of Ohio. On August 31, 1976, Judge Battisti held that the State of Ohio and the Cleveland Public Schools intentionally created and maintained a segregated school system, which violated the 14th Amendment rights of Robert Anthony Reed III and other similarly situated Cleveland school children. Reed v. Rhodes, 422 F. Supp 708, 796-97 (N.D. Ohio 1976), aff'd, 662 F.2d 1219 (6th Cir. 1981). In response to Judge Battisti's opinion, the Cleveland Public Schools implemented an integration program, which included cross-town busing and academic improvement requirements. The Cleveland Public Schools spent the 1980s and 1990s trying to achieve racial integration.
On March 27, 1998, Chief Judge White brought the Cleveland school desegregation story to its end: "[A]ll vestiges of past discrimination and segregation have been eliminated to the extent practicable; and Defendants have demonstrated a good faith commitment to their constitutional obligations." Reed v. Rhodes, 1 F. Supp.2d 705, 757 (N.D. Ohio 1998). The Cleveland Public Schools remained under court supervision until July 1, 2000.
Reed v. Rhodes was a victory for the NAACP and the desegregation movement in the United States, but the impact of Judge Battisti's decision on Cleveland and the public schools sparked a debate that can still be heard today.
Clippings & Images from Cleveland Memory
Further Reading from Cleveland Historical
Videos: