Sheppard v. Maxwell (1966-490)
384 U.S. 333 (1966)
Case Background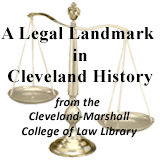 Some time after midnight on July 4, 1954, Marilyn Sheppard was murdered in her Bay Village home. The home overlooked Lake Erie and had beach access. She was pregnant at the time. Her husband was an osteopathic doctor who worked at his family's hospital. They had a seven year old son, Sam Sheppard, Jr., who went by Chip. The husband, Sam Sheppard, claimed to have seen a "bushy haired" man, whom he tried to unsuccessfully fight off, and eventually passed out on the Lake Erie beach, after receiving a nasty blow to the head. At 5:45 am he called his neighbor, Bay Village Mayor Spencer Houk, stating that someone had killed Marilyn.
Studying the crime scene, the coroner and some of the police had problems believing Sam Sheppard's story. They did not do their best work: they did not try to determine if Marilyn Sheppard had been raped, they let the media traipse through the crime scene, and they may have come to their conclusion before they processed all the evidence.
The local media had a field day with the story. It was a slow summer for news, and the murder of a pretty doctor's wife held the public's attention. The media jumped to the same conclusion as the police did. Bay Village was a small suburb and needed the help of the Cleveland police to help with the case. The pressure by the media and the public to arrest Sheppard was high. In late July, Coroner Gerber held an inquest at Normandy Elementary School in Bay Village to get some answers. He did this after a headline in a local paper appeared, demanding to know why "someone was getting away with murder."
During the inquest when Sheppard was questioned, he denied having an affair or ever thinking of divorcing his wife. This was untrue. During the early part of their marriage, Sam had thought of it. He also had a few affairs. The most notable one was with Susan Hayes, a lab technician from Cleveland who worked at the hospital. She later moved to Los Angeles. She was brought back and questioned about her relationship with Sheppard. Many people felt that this was the damning evidence to prove that Sheppard killed his wife.
Shortly after the inquest, Sheppard was arrested for the murder of his wife. He hired attorney Will Corrigan and assembled a defense team which included Fred Garmone, Arthur Petersilge (who was already the family's attorney before the murder), and Will Corrigan Jr. who had recently graduated from law school.
The prosecution team consisted of Saul Danaceau, John Mahon, Frank Cullitan, and Thomas Parrino. Notably, Mahon was also trying to get elected to be a judge in November 1954. Judge Edward Blythin presided over the court. He told Dorothy Kilgallen, a famous journalist who covered the case, that he was certain of Sheppard's guilt before the case started.
Jurors were selected in October 1954. Their names, photos, and addresses were printed in the local newspapers. The jurors received mail from people, telling them to convict Sheppard.
The trial started in late October. The media had unprecedented access to the case. People lined up to get a seat in the courtroom. Sheppard initially felt that he would be found innocent. His extended family was extremely supportive. His two brothers and father came to court every day, alternating their times so that someone could be at the hospital. His sister-in-laws came every day. Marilyn's family believed he was innocent as well.
The trial went until mid-December. On December 21, 1954, the jury convicted Sheppard. Sheppard received a sentence of life in prison. Shortly after the conviction, his mother committed suicide, his father died of a bleeding ulcer, and Marilyn's father committed suicide in 1963. Chip Sheppard went to live with Steve and Betty Sheppard.
Corrigan died in 1961. F. Lee Bailey took over as counsel. In 1964, after several attempts to appeal the decision, one was granted. In 1966, the Supreme Court heard the case Sheppard v. Maxwell, and came to the conclusion that Sheppard was denied due process and had an unfair trial, mainly due to the media circus that permeated the original trial. The court also found that blame lay with Judge Blythin who had refused to sequester the jurors and did not tell them to disregard the media.
Sheppard was released and married, Ariane Tebbenjohanns, a German divorcee who had corresponded with Sheppard while he was in prison. He went back to the hospital, but was sued for malpractice after two patients died. He tried to make it on the wrestling circuit, going by Sam "The Killer" Sheppard. He later divorced Tebbenjohanns, and married the daughter of his wrestling partner, Colleen Strickland who was 20. Sam was penniless and an alcoholic. In 1970, he died of liver failure.
His son has made many efforts to clear his father's name. During the 1990s, he tried to get prosecutor Stephanie Tubbs-Jones to reopen the case. She refused. In 1999, he filed suit against the state of Ohio, where he tried to have his father declared innocent, instead of not guilty. He also filed charges of wrongful imprisonment. The prosecution argued that Sheppard committed the crime. The defense tried to highlight Richard Eberling, a man who had washed the windows at the Sheppard's home days before the murder, and had been convicted of other murders. Susan Hayes, now a grandmother, was brought back to testify. The bodies of both Marilyn and Sam Sheppard were exhumed. Sheppard was found not guilty, but was not found to be wrongfully imprisoned.
Additional Resources:
Page Credits:
Our thanks to Library and Information Science Student, Carolyn Hersch whose practicum project included scanning and cataloging the Sheppard-related images from the William Ashbolt Collection as well as writing the above content for this web page.