The d.a. levy collection
More About d.a. levy
d. a. levy reading at The Gate in 1966.
As poet, artist and publisher, d.a. levy was an important literary and underground figure in Cleveland's emerging poetry and small/alternative press scene in the early 1960s and continued to be until his untimely death in 1968. levy documented his love-hate relationship with the city and the politics of the day through his poetry and art which today provides a unique political and social perspective of 1960s Cleveland. Considered a visionary by many of his contemporaries, levy transcended the geographical boundaries of the city as well, with his work acknowledged by such nationally renowned poets as Allen Ginsberg and Gary Snyder.
As the self-publishing and mimeograph revolution of the 1960s era unfolded, levy, using a second-hand letterpress, published the works of many Cleveland poets including Russell Salmon, Kent Taylor, Russell Atkins and Grace Butcher through his Renegade Press and later Seven Flowers Press publications. He created and published some of Cleveland's original alternative press publications; the Buddhist Third Class Junkmail Oracle and Marrahwana Quarterly at times distributing them on the streets of Cleveland for free. He became a local symbol for Freedom of Speech after he was arrested and charged with contributing to the delinquency of a minor in 1966 at a poetry reading in which he allowed juveniles to read work that was deemed obscene by city officials. It was shortly after pleading no contest to a similar charge in another case later in 1968 that levy tragically took his own life at the age of 26.
Although levy created large amounts of textual and concrete poetry and art in his young life, few of his original materials are in circulation today. Sadly before his death, he destroyed much of his remaining pieces and gave the rest away to friends.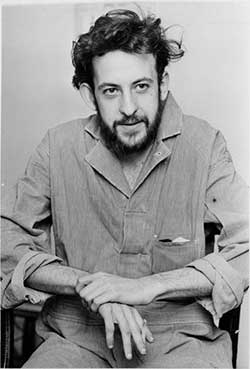 d. a. levy at County Courthouse in 1967, charged with contributing to the delinquency of a minor & publishing obscene literature.
Dr. Wagner, a fellow poet and friend of levy's, wrote that levy "carries Cleveland around in his shirt pocket like some small clawed animal. And he loves it." Too often, though, that love was not returned.
In levy's own words:
. . . i spend my days in
amazement - wondering at your
callousness & your wide-open
hypocrisy -

cleveland, i gave you
the poems that no one ever
wrote about you
and you gave me
NOTHING
In the same poem, levy also said "cleveland - there are parts of me/you will not understand/for centuries." In some ways the world of 1968 seems centuries removed from the world we now inhabit. Perhaps it is not too soon to hope that the understanding can begin today.
The Michael Schwartz Library at Cleveland State University has made a concerted effort to bring Clevelander d.a. levy's work home by locating and acquiring what it can for archival preservation and public access purposes. With the advent of the internet, there's no reason it need only be confined to archival boxes in the backroom of the library any longer. We can now "cover the world" with his lines via the web, and most importantly, reduce further deterioration of the print originals.
This website was designed to serve as a portal to information on and about d.a. levy. In addition to levy's poetry and art on display in digital format, photographs, newspaper accounts of his arrests, multimedia, additional references and links to other levy collections and materials, as well as bibliographies of his work created by fellow poets and friends are included on the site as well.
Users are now able to browse levy's work freely, page by page, from anywhere in the world.