The Darius Milhaud Society Collection
Biography of Katharine Warne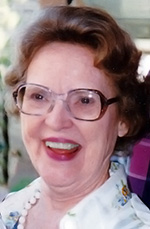 Katharine Mulky-Warne was born on October 23, 1923 in Oklahoma City. At the age of 22 she graduated with a Bachelors Degree from Mills College in California. She went on to obtain a Masters Degree at The Julliard School in New York where she graduated in 1947. Afterwards, she earned a DMA from the Cleveland Institute of Music in 1975. She studied composition with Darius Milhaud, Bernard Wagenaar, and Donald Erb.
Katharine held various teaching positions across the country. She became a professor of music theory at the University of Kansas (1947-1954, 1956-1960), was a lecturer at Baldwin Wallace Conservatory in Berea, Ohio (1972-1974), and then moved on to become a visiting assistant professor at Kent State University in Kent, Ohio (1974-1975). She continued to instruct students on the piano at the Laurel School in Shaker Heights, Ohio (1972-1985).
Warne belonged to and was active in several musical organizations including the music fraternity Mu Phi Epsilon in which she was treasurer (1970-1972, 1975-1977). Katharine was the vice president for both the Fortnightly Musical Club (1969-1974) and the Cleveland Composers Guild (1975-1980). Her most important work was as the founder and president of the Darius Milhaud Society. Additionally, she organized 15 Milhaud festivals in Cleveland, Ohio to promote his music.
Katharine Mulky-Warne composed numerous original compositions from 1945-2014 that include orchestral, chamber, and solo works. A few of these compositions were intended for teaching and improvising. She also dedicated many of her works to friends and colleagues. She passed away on April 24, 2015.
The Katharine Warne Papers in Special Collections at the Michael Schwartz Library at Cleveland State University contains various types of correspondence and musical material, including personal correspondence and correspondence related to the Darius Milhaud Society. There are numerous original compositions that include the composer's original manuscripts, several copies of the manuscripts, and other musical material including sketches, transcriptions, and student assignments.