The William Wynne Collection
Bill Wynne's Photographs: Reuniting a Photographer's Work Through the Digital Public Library of America
Award-winning photographer and photojournalist William "Bill" Wynne captured the visual record of historically-significant events in Cleveland politics and society over the latter half of the 20th century.

Mr. Wynne donated to Cleveland State University's Michael Schwartz Library a collection comprised of photographs, newspaper clippings and scrapbooks (including letters and notes), mostly documenting Cleveland area events and an expansive range of news stories for The Plain Dealer newspaper. Subjects documented within this collection include animals, the arts, celebrities, civil and human rights, industry and nature. Also included in the collection are profiles of political, religious, and sporting figures and events.

Wynne's work also encompassed artistic photographs and subjects beyond Northeastern Ohio, and he had previously donated this segment of material to John Carroll University. The Michael Schwartz Library has partnered with John Carroll to present and make available to the public both collections via Cleveland Memory.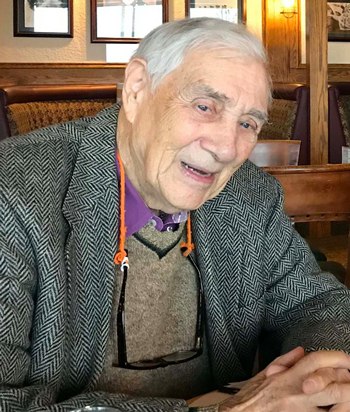 Bill Wynne in 2018.
About Bill Wynne
William Wynne grew up in Cleveland, living for a short time at the Parmadale Children's Village of St. Vincent de Paul, and graduating from West Technical High School. During WWII, he served as an aerial photographer for the U.S. Air Force, conducting photo reconnaissance in the Pacific Ocean theater. He flew 13 combat missions with the 3rd Emergency Rescue Squadron as an aerial photographer. Wynne also worked as a lab technician and as a camera installer on F-5 Lightning (Photo Recon P-38s) reconnaissance planes with the 26th Photo Recon Squadron. For this military service, Wynne was awarded two U.S. Presidential Unit Citations and eight Battle Stars.
After the war, he worked a three-month stint as a Hollywood dog handler before returning to Cleveland with his family. Thanks to Air Force connections and to his Air Force schooling in laboratory and aerial photography, he was hired by the National Advisory Committee for Aeronautics (later called the NASA Lewis Flight Propulsion Laboratory), where he served happily for seven years before being offered a more lucrative position as a photographer for the Plain Dealer.
At the Plain Dealer he went on to become an award-winning photographer and photojournalist. An advocate for justice, Wynne was honored as part of the investigative journalism team that exposed the abuses at Lima State Hospital for the Criminally Insane in the 1970's. Wynne was inducted into the Ohio Press and Journalism Hall of Fame and was a finalist for a Pulitzer Prize in 1973.
Wynne and Smoky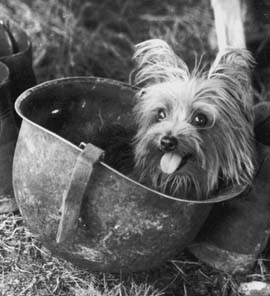 Smoky in a soldier's helmet.
No mention of Bill Wynn's life would be complete without a mention of Smoky, a Yorkshire Terrier Bill befriended in a foxhole in Nazdab, New Guinea during WWII. Their adventures together included flying 12 combat, rescue, and photo reconnaissance missions. Smoky (and Bill) survived 150 air raids on New Guinea, and Smoky was awarded eight battle stars, eventually being named Southwest Pacific Theater Mascot of the Year and being featured in LIFE magazine and in newspapers across the U.S.

Wynne and Smoky were stars when they came home, and after Bill's brief stint as a dog trainer in Hollywood, they returned home to Cleveland, where they were featured on local television programs and continued touring hospitals. Smoky worked as a therapy dog for 12 years after the war, for which she has been honored with 17 memorials on three continents. She has been the subject of many books, including Bill's 1996 memoir, "Yorkie Doodle Dandy".
In this 2018 piece, "Shooting from the heart", Bill wrote eloquently about his work and his life, illustrated by some of his best works, and followed by an interview with Dave Davis and Bill Barrow. (From Plain Dealing: Cleveland Journalists Tell Their Stories, by Dave Davis and Joan Mazzolini)
---
About the Project
Based on material contributed in a partnership from separate William Wynne photographic collections at CSU's Special Collections and at the Northeast Ohio Broadcast Archives in the Tim Russert Department of Communications at John Carroll University, this site is an example of the benefits of institutions working together to provide better resources to the public.
Funded through a 2021 federal Institute of Museum and Library Services LSTA grant awarded by the State Library of Ohio and made available through the Cleveland Memory Project at Cleveland State University's Michael Schwartz Library and the Digital Public Library of America, the content does not necessarily reflect the position or policy of the granting agencies.