Cleveland Union Terminal Construction Photographs, 1926-1929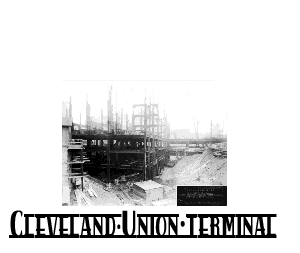 This site documents the construction of the Cleveland Union Terminal (CUT) on the southwest quadrant of Public Square. The CUT was designed to be the union passenger station for railroad trains entering Cleveland after 1930. The project included a complex of office buildings, a hotel, department store, and post office; all capped by the Terminal Tower, then the tallest building between New York City and Chicago.
The exhibit includes black and white photographs, many of them taken by commercial photographer Robert E. Hawkins, documenting both the progress of the construction as well as the original conditions on the land before the neighborhoods and commercial districts were demolished to make way for the Union Terminal project.
Index of Images:

Original Conditions:

Also of Interest :