Bridges of Metropolitan Cleveland by Sara Ruth Watson and John R. Wolfs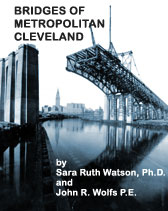 Bridges of Metropolitan Cleveland
by Sara Ruth Watson and John R. Wolfs
1981
"The panorama of Cleveland's Cuyahoga Valley shows bridges of all sizes, styles, functions and types. We are chronicling a history of bridges, but with special attention to the influence of our environment upon them. By discovering this influence as it has operated in the past, we can design and build with better understanding for the future. Descriptions are sometimes technical and detailed, sometimes sociological and historical, and sometimes humorous, chatty, even legendary. In short, there is something for everyone-for the engineer, for the local historian, for the sociologist, and, last but not least, we hope, for the general reader who has a bit of curiosity."
Dr. Watson, a former Professor of English and Engineering at Fenn College, initiated and from 1940 to 1970, taught a pioneer course in the History of Civil Engineering. In 1983 she donated The Wilbur and Sara Ruth Watson Bridge Book Collection to the Cleveland State University Library.
This is the web edition of a book originally published in 1981 by the authors with support from many patrons and sponsors. It contains all the information and images found in the original along with some enhancements developed to aid in navigating this site.