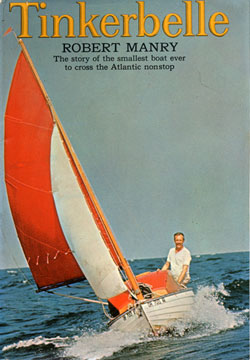 ---
Tinkerbelle:
The story of the smallest boat ever
to cross the Atlantic nonstop
by Robert N. Manry
TABLE OF CONTENTS
---
On June 1, 1965 Robert Manry, a copy editor for the Plain Dealer and a Willowick, Ohio resident, left Falmouth, Massachusetts aboard his 13.5-foot sailboat, Tinkerbelle, to begin his voyage across the Atlantic Ocean. He arrived in Falmouth, England seventy-eight days later on August 17, 1965. At the time of the crossing Tinkerbelle was the smallest boat to have ever crossed the Atlantic.