The Hulett Automatic Ore Unloaders Online
George H. Hulett*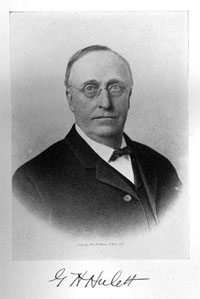 There was a time not so long ago in our economic progress when man power was regarded as practically unlimited, and human labor was vastly cheaper than material or machinery. Such conditions have undergone rapid change, and now with the critical scarcity of labor and its relatively high price many forms and processes of industry would be impossible were it not for improved labor saving machinery. Thus labor saving machinery has not, as has been sometimes claimed, displaced the human factor so much as it has supplied the vacancy left by the increasing withdrawal of man power and has actually lightened the burdens of the world and released countless human operatives for more productive lines of employment.
In the field of invention and manufacture of labor saving machinery one of the men entitled to distinction at Cleveland is George H. Hulett. Mr. Hulett is a native of Ohio, born at Conneaut September 26, 1846, a son of Erastus and Amanda (Norton) Hulett. His father was born in Vermont in 1796 and was a pioneer settler of Conneaut, arriving there in 1831 and following the occupation of farmer until 1860. In that year he moved to Cleveland and lived retired until his death in 1868. He married Amanda Norton in Vermont, and they were the parents of four children, William E. and Eliza, both deceased; Frank, a resident of Pasadena, California; and George H.
George H. Hulett attended public school until twelve years of age and then came to Cleveland, continued his education in the local schools here and in the Humiston Institute of Cleveland, from which he graduated in 1864. Mr. Hulett was a merchant at Unionville, Ohio, conduction a general merchandise store for the supply of all the commodities used in the surrounding country until 1881. Selling out, he returned to Cleveland and was in the produce and commission business in this city until 1890.
Thus nearly a quarter of a century of his active career passed before he got into the real field where his chief success has been made. In 1890 he began manufacturing coal and ore handling machinery. In 1898 he became associated as an engineer of construction with the Variety Iron Works of Cleveland. Resigning this position in 1903 he became engineer with the McMyler Manufacturing Company. It was while with this company that he invented the Hulett Unloading Machine. In 1907 he became associated with the firm of Webster Camp & Lane at Akron. Still keeping his interest at Akron he returned to Cleveland in 1909 and opened an office in the Garfield Building and soon afterward consolidated with Wellman, Seaver & Morgan Company of Cleveland and the Webster, Camp & Lane Company of Akron. The new name became Wellman, Seaver & Morgan Company, with Mr. Hulett as a vice president and director. In February, 1917, he resigned his post as vice president, but was still a director until 1918, when he withdrew.
His big work aside from manufacturing has been as an inventor. He is inventor of the Hulett Car Dumper Machine, sometimes called the McMyler Car Dumper Machine, and the Hulett Unloading Machine. This last is a device for unloading iron ore and coal, and for a number of years has been used on the Great Lakes and is now being introduced at various large ocean ports. The dumper machine is employed for unloading cars of ore, coal and other materials at lake and ocean ports and blast furnaces. He is also inventor of the Hulett Conveyor Bridges, for he handling of coal, iron, ore and limestone. One effective instance may be given as to the efficiency of the machinery invented by Mr. Hulett. Not so many years ago it required a hundred men for a period of twelve hours to unload a 5,000 ton cargo of ore. Four of the improved Hulett machines have again and again demonstrated their capacity to lift a 10,000 ton cargo of ore from a lake vessel and deposit it on the docks in less than five hours, with the services of only twenty-five men of operation.
Mr. Hulett is widely known in engineering and technical circles, is a member of the Engineers Club of Cleveland, the American Society of Mechanical Engineers, and the Engineers Club of New York city. He is a member of the Masonic order, is an independent voter and belongs to the Euclid Avenue Methodist Episcopal Church. At Unionville, Ohio, in June, 1871, he married Miss Addie Hutchings. They have a son and daughter, Frank and Mrs. H. J. Doolittle of Cleveland. Frank is a graduate of the Cleveland High School, the Case School of Applied Science and at present is an engineer and contractor in Cleveland.