The Hulett Automatic Ore Unloaders Online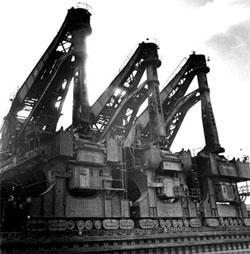 The Hulett Automatic Ore Unloader was invented by George H. Hulett, a native of Ohio, in the late 1800's. He recieved the patent for this invention in 1898 and the following year the first working model was built at Conneaut Harbor in Conneaut, Ohio. It was constructed by the Webster, Camp & Lane Company of Akron. The Hulett Automatic Ore Unloader became an essential element in the development of the iron ore industry in Ohio, allowing rapid unloading of cargos and increasing the volume and efficiency of ore docks at Ohio ports such as Ashtabula, Cleveland, Conneaut, Huron, Lorain, and Toledo.
The machines remained in use, with few changes, until 1992 when self-unloading boats became standard on the American side of the lake. Huletts were then considered too expensive to operate and maintain and most were scrapped. By 1999, six still stood as reminders of their domination of iron ore unloading. Four of these six were located on Whiskey Island at Cleveland, Ohio and were recognized as "Historic Mechanical Landmarks" by the American Society of Mechanical Engineers in 1998. In spite of that, In 2000, the remaining Huletts were demolished by the Cleveland Port Authority except for two, which were disassembled and retained in hope of reconstruction at another site.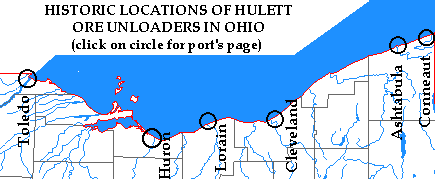 More About Hulett Automatic Unloaders
Photographs from the Cleveland Press Collection
eTexts:

Many articles were written about the Hulett Automatic Ore Unloaders. These are two of the articles which appeared in Engineering News in 1905, as the importance of the Hulett Unloader began to develop.
The Pennsylvania Railroad's Cleveland Docks (1946) provides written and photographic information about how the Hulett Automatic Ore Unloaders functioned on the ore docks. (From the Cleveland Digital Library)
"Cleveland's Huletts Still Standing Tall" by Carol Poh Miller
As the fate of the last six Huletts has came into question, a number of articles were written regarding their importance. This article was originally published in the newsletter of the Society for Industrial Archeology and was updated on December 29, 1998 with an additional author's note.

External Links: