Ports & Harbors Along Ohio's North Coast
Profile of the Port of Ashtabula, Ohio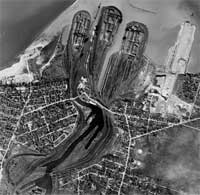 Pinney docks at the Port of Ashtabula.
This site provides access to a number of resources pertaining to the harbor at Ashtabula, Ohio.
See images from the Cleveland Press Collection taken of the harbor through the years or view a map of the port from the U. S. Army Engineer District, Buffalo as published in the Great Lakes Harbor Study - Interim Report on Ashtabula Harbor, Ohio in 1959.
Below is a table that offers information about each of the docks at the port. This information is compiled from the 10th edition of Greenwood's Guide to Great Lakes Shipping. The year, 1969, is chosen to illustrate the height of use for much of the large materials handling equipment used on the Cleveland docks. See current information about the port.
A tabular profile of the Port of Ashtabula, Ohio : The Cleveland Memory Project
Harbor Name
Owner or Operator
Cargo
Equipment
Railroad CXNS
"A. & B" (Outer Harbor)
Ashtabula & Buffalo Dock Company
Unloading:
Iron Ore
Unloading:
4 Wellman Hulett-Type 17-ton Automatic Ore Unloaders
Penn Central
Carferry Slip
Acme Scrap Iron & Metal Company
Loading:
Scrap Iron
Loading:
2 Crawler Cranes
1 Locomotive Crane
Penn Central
Penn Central Dock #10 (Ashtabula River)
Lower Lake Dock Company
Unloading:
Iron Ore
Unloading:
Conveyor Fed Traveling Ship Loader with Lowering Spout and Gates
Penn Central
Pinney Dock #2
Pinney Dock and Transportation Company
Unloading:
Various Bulk Materials
Unloading:
Self-unloaders only
Penn Central
Pinney Dock #3
Pinney Dock and Transportation Company
Unloading:
Various Bulk Materials
Unloading:
Self-unloaders only
Penn Central
Pinney Dock #4
Pinney Dock and Transportation Company
Loading & Unloading:
General Cargos
Various Bulk Materials
Loading & Unloading:
2 15-ton Gantry Cranes
1 60-ton heavy-lift portable crane
Penn Central
Sidley (Ashtabula River)
R. W. Sidley Company
Unloading:
Stone & Sand
Unloading:
Self-unloaders only
Penn Central
Union (Outer Harbor - East)
Union Dock Company
Unloading:
Iron Ore
Unloading:
4 Wellman Hulett-Type 17-ton Automatic Ore Unloaders
Penn Central