Ports & Harbors Along Ohio's North Coast
Profile of the Seaway Port of Conneaut, Ohio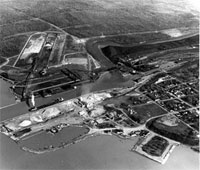 Aerial view of the Port of Conneaut.
On a late afternoon, over two hundred years ago, a party of 50 men including surveyors landed at what is known today as Conneaut's Seaway Port. At that time the area was part of the Western Reserve of Conneticut, and the landing party were representatives of the Conneticut Land Company, whose duty was to map the area. Today, Conneaut is one of the most frequented ports on Lake Erie.
This site provides access to a number of resources pertaining to Conneaut's Seaway Port.
See images from the Cleveland Press Collection taken of the harbor through the years or the Naef & Joslin Photographs Collection, sepia-toned professional photographs shot in 1900 by this Conneaut firm.
Below is a table that offers information about each of the docks at the port. This information is compiled from the 10th edition of Greenwood's Guide to Great Lakes Shipping. The year, 1969, is chosen to illustrate the height of use for much of the large materials handling equipment used on the Cleveland docks. See current information about the port.
A tabular profile of the Port of Conneaut, Ohio
Harbor Name
Owner or Operator
Cargo
Equipment
Railroad CXNS
Dock #1
United States Steel Corporation
Unloading:
Limestone
Unloading:
Self-Unloaders Only
Bessemer & Lake Erie
Dock #2
Pittsburgh & Conneaut Dock Company
Loading & Unloading:
Various Steel Products
Loading & Unloading:
Handling by ship's equipment
Bessemer & Lake Erie
Dock #3 / "P. & C."
Pittsburgh & Conneaut Dock Company
Loading:
Coal
Loading:
Conveyor Fed Ship Loader With Telescopic Chute
Bessemer & Lake Erie
Dock #4 / "P. & C."
Pittsburgh & Conneaut Dock Company
Unloading:
Iron Ore
Unloading:
5 Wellman Hulett-Type 17-ton Automatic Ore Unloaders
Bessemer & Lake Erie