Ports & Harbors Along Ohio's North Coast
Profile of the Port of Huron, Ohio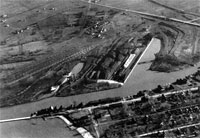 Aerial view of the Port of Huron.
This site provides access to a number of resources pertaining to the harbor at Huron, Ohio.
See images from the Cleveland Press Collection taken of the harbor through the years
Below is a table that offers information about each of the docks at the port. This information is compiled from the 10th edition of Greenwood's Guide to Great Lakes Shipping. The year, 1969, is chosen to illustrate the height of use for much of the large materials handling equipment used on the Cleveland docks. See current information about the port.
A tabular profile of the Port of Huron, Ohio
Harbor Name
Owner or Operator
Cargo
Equipment
Railroad CXNS
Slip #1 / Huron Lime
Huron Lime Company
Unloading:
Stone
Unloading:
Self-Unloaders Only
Norfolk & Western
Slip #2 / Corn Products
Corn Products Company
Loading & Unloading:
Grain
Loading & Unloading:
Elevator
Norfolk & Western
Slip #2 / "N. & W."
Lake Erie Dock Company
Unloading:
Iron Ore
Unloading:
2 Wellman Hulett-Type 17-ton Automatic Ore Unloaders
Norfolk & Western