Ports & Harbors Along Ohio's North Coast
Profile of the Port of Cleveland, Ohio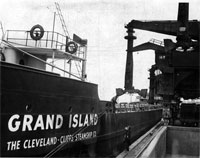 View of ship and Hulett automatic ore loader at the Port of Cleveland.
This site provides access to a number of resources pertaining to the harbor at Cleveland, Ohio.
See images from the Cleveland Press Collection taken of the harbor through the years or read the following eTexts.
Also of interest: Cleveland - World Port, a video originally filmed in 1959 depicting one of the first ships to arrive at the then new lakefront Cleveland Port.
Below is a table that offers information about each of the docks at the port. This information is compiled from the 10th edition of Greenwood's Guide to Great Lakes Shipping. The year, 1969, is chosen to illustrate the height of use for much of the large materials handling equipment used on the Cleveland docks. See current information about the port.
A tabular profile of the Port of Cleveland, Ohio
Harbor Name
Owner or Operator
Cargo
Equipment
Railroad CXNS
Allied Crane
Allied Crane Service
Loading & Unloading:
Ores
Clay
Loading & Unloading
1 45-ton truck crane
1 60-ton truck crane
Penn Central (away from dock)
Breckling's
Breckling Concrete Corporation
Loading & Unloading:
Various Materials
Loading & Unloading:
Rented as needed
Penn Central
"C. & P." (Lakefront)
Ohio & Western Pennsylvania Dock Company
Unloading:
Iron Ore
Unloading:
4 Wellman Hulett-Type 17-ton Automatic Ore Unloaders
Penn Central
CBS #1
Cleveland Builders Supply Company
Unloading:
Sand
Stone
Unloading:
Self-unloaders only
Baltimore & Ohio
CBS #2
Cleveland Builders Supply Company
Unloading:
Salt
Sand
Stone
Unloading:
Self-unloaders only
Penn Central
Central Furnace (Cuyahoga River)
United States Steel Corporation
Unloading:
Iron Ore
Limestone
Unloading:
2 Wellman Hulett-Type 10-ton Automatic Ore Unloaders
Limestone received only by self-unloader.

Newburgh & South Shore
Cleveland Gypsum
Cleveland Builders Supply Company
Unloading:
Sand
Unloading:
Self-unloaders only
Erie-Lackawanna
Clifton Concrete
Clifton Concrete & Supply Company
Unloading:
Sand
Stone
Unloading:
Self-unloaders only
Norfolk & Western
Corrigan - McKinney (Cuyahoga River)
Republic Steel Corp.
Unloading:
Iron Ore
Limestone
Unloading:
3 Wellman Hulett-Type 10-ton Automatic Ore Unloaders
2 Wellman Hulett-Type 17-ton Automatic Ore Unloaders
Limestone received only by self-unloader
River Terminal
Dock # 20
Cleveland Steveadore Company
Loading & Unloading:
General Cargo
Loading & Unloading:
4 40-ton Locomotive Cranes
3 150-ton Manitowoc Crawler Cranes
1 60-ton Manitowoc Crawler Crane
Penn Central
Dock #24
Cleveland-Cuyahoga County Port Authority
Loading & Unloading:
General Cargo
Loading & Unloading:
Mobile Cranes
Penn Central
Dock #26
Cleveland Steveadore Company
Loading & Unloading:
General Cargo
Loading & Unloading:
4 40-ton Locomotive Cranes
3 150-ton Manitowoc Crawler Cranes
1 60-ton Manitowoc Crawler Crane
Penn Central
Dock #28
Cleveland-Cuyahoga County Port Authority
Loading & Unloading:
General Cargo
Loading & Unloading:
1 150-ton Heavy Lift Stiff-leg Crane
Penn Central
Dock #30
Great Lakes International Corporation
Loading & Unloading:
General Cargo
Loading & Unloading:
1 150-ton Crawler Crane
1 100-ton Crawler Crane
1 60-ton Crawler Crane
Penn Central
Dock # 32
Great Lakes International Corporation
Loading & Unloading:
General Cargo
Loading & Unloading:
1 150-ton Crawler Crane
1 100-ton Crawler Crane
1 60-ton Crawler Crane
Penn Central
Erie / NYPANO (Old River)
Erie Dock Company
Unloading:
Iron Ore
Unloading:
3 Wellman Hulett-type 17-ton Automatic Ore Unloaders
Erie - Lacawanna
Ford Motor
Ford Motor Company
Unloading:
Sand
Stone
Unloading:
Self-unloaders only
Penn Central
Huron Cement
Huron Portland Cement Division
Unloading:
Cement
Unloading:
Unloading Pipes
Erie-Lackawanna
International Salt
International Salt Company
Loading:
Salt
Loading:
1 Shuttle Conveyor Belt
Penn Central
L & M Properties Company
Breckling Concrete Corporation
Unloading:
Building Materials
Salt
Unloading:
Self-unloaders only
No direct rail connection
Lower Republic-East Dock
Republic Steel Corporation
Unloading:
Stone
Unloading:
Self-unloaders only
River Terminal
Lower Republic-West Dock
Republic Steel Corporation
Unloading:
Steel Turnings
Unloading:
Steel Turnings
River Terminal
Maro Coke
Maro, Incorporated
Loading:
Coke
Loading:
1 Shuttle Conveyor
Penn Central
Merwin Avenue Dock
Cuyahoga Lime Company, Inc.
Unloading:
Stone
Unloading:
Self-unloaders only
Penn Central
Montana Flour Mills
International Milling Company
Unloading:
Grain
Unloading:
Elevator
Penn Central
Nicholson Terminal
Nicholson Cleveland Terminal Company
Loading & Unloading:
General Cargo
Newsprint
Loading & Unloading:
2 12-ton Lorain Cranes
No direct rail connection
Ontario Stone #1
Ontario Stone Corporation
Unloading:
Stone
Unloading:
Self-unloaders only
No direct rail connection
Ontario Stone #2
Ontario Stone Corporation
Unloading:
Stone
Unloading:
Self-unloaders only
No direct rail connection
Otis (Cuyahoga River)
Jones & Laughlin Steel Corporation
Unloading:
Iron Ore
Limestone
Unloading:
2 5-ton Brown Hoists
1 15-ton Wellman
Limestone received only by self-unloader

Cuyahoga Valley
Peerless Cement
Peerless Division, American Cement Corporation
Unloading:
Cement
Unloading:
Self-Unloaders or Unloading Pipes
Penn Central
Riverfront
Cleveland Steveadore Company
Loading & Unloading:
Various Bulk Cargos
Loading & Unloading:
4 40-ton Locomotive Cranes
Baltimore & Ohio
Sand Products
Sand Products Corporation
Unloading:
Sand
Unloading:
Self-unloaders only
Penn Central
Sherwin - Williams
Sherwin - Williams Company
Unloading:
Grain
Unloading:
Elevator
Erie - Lackawanna R.R.
Sycamore Dock
Cleveland Steveadore Company
Loading & Unloading:
Various Commodities
Loading & Unloading:
4 40-ton Locomotive Cranes
Baltimore & Ohio