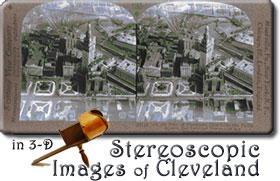 Stereoscopic Images of Cleveland in 3-D
The following images are scenes taken from historic stereoview cards showing Cleveland and the wider Great Lakes industrial region and converted into 3-D images.
To be able to view the full effect of the 3-D renderings, anaglyph 3-D glasses (red/cyan) are required. Find out more about anaglyph images from Wikipedia.
Browse steroscopic images by:
Subject
Companies
Geographic Location