The Gerald E. Brookins Collection
A Tribute to Gerald E. and Alice M. Brookins, Co-founders of the Gerald E. Brookins Museum of Electric Railways and Trolleyville U.S.A.
~ by Gary J. Brookins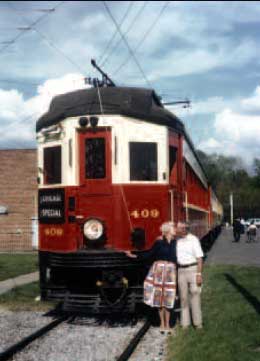 Alice and Gerald Brookins
My mother and father were typical Americans back in the 1930's. Marriage, children, hard work, devotion to family and country took center stage.
My father was a milkman by day and a musician by night. When I came along a polite ultimatum was issued that there be only one-day job in order to insure family unity.
My mother's brother was an executive with an oil company in Cleveland. He told my father that for $200 he could own his own gas station at 140th and Detroit Ave in Lakewood, Ohio. My father borrowed the money from his mother and was in business.
Several months later, two travellers drove by the gas station pulling two very small trailers. They noticed a large wooded area behind the station and asked my father if they could rent the space for several months. The trailers were very small, the precursors to the recreational vehicles we know today. A short time later a house trailer manufacturer's representative passed the gas station and noticed the two small trailers in the back. The gentleman asked my father if he would be interested in selling his company's house trailers. My father said he would absolutely be interested in selling his product. His first sale was to the band director at Lakewood High School.
My parents seized this opportunity and developed a family business second to none in the state of Ohio. They were visionaries and pioneers in the Manufactured Housing industry concept and were rewarded with Hall of Fame status and were considered as examples for future leaders. Their most recognizable property was Columbia Park in Olmsted Township, Ohio. Development of Columbia Park began in 1954 and was considered a jewel in the Manufactured Housing crown.
At this time, the city of Cleveland abandoned their last streetcar lines. As a youngster, Gerald would ride the electric railways from Cleveland to Strasburg, Ohio to visit his grandmother. During this time he developed a passion for that mode of transportation that lasted throughout his life. The loss of the streetcar lines allowed my father to fulfill his dream. He was able to purchase four double-end light weight interurban cars from the Shaker Heights Rapid Transit. Shortly after, he purchased trolley wire, line poles and trolley hardware form Cleveland's Clifton Blvd. Line.
Some track was laid and the cars were stored adjacent to a new shopping center that was part of the Columbia Park mobile home community he and my mother were creating. This was the start of what became Trolleyville, U.S.A. and later a very important operating trolley museum. Eventually, one and one half miles of track was laid and electrified through the mobile home park. Over the years the collection grew to include thirty-eight more cars along with substantial car barns and sub-station equipment. My father's passion for electric railways led to the establishment of Trolleyville and the Gerald E. Brookins Museum of Electric Railways.
Trolleyville became a first class operating museum of electric railways and my father was very proud of his accomplishments and success. He was especially interested in securing streetcars that ran on the streets of Cleveland or were manufactured in Ohio. In 1960, the Shaker Heights Rapid Transit retired the last of the Cleveland Railway center-entrance cars that had been converted for rapid transit use and Trolleyville was able to acquire two cars, numbers 1218 and 1225. These cars were the only true "Cleveland" cars in the collection. The Kuhlman Car Company of Cleveland built them for The Cleveland Railway Company in 1914.
Columbia Park was sold on June 25, 2001. The terms of the sale stipulated the museum be moved from the park within five years. The Brookins family, Trolleyville and museum members were determined to keep the collection together in the Cleveland area.
During this period various strategic attempts were made to finance and build a trolley museum and/or an operating trolley line within downtown Cleveland. The "Great Recession" of 2008-09 doomed the financial fate of our vision and the cars were sold to other museums and operating trolley lines in the United States. The remaining funds were used to establish the Gerald and Alice Brookins Foundation Fund at the Cleveland Foundation.
I would like to acknowledge Mr. William Wall, Executive Director of the Shoreline Trolley Museum in Branford, Connecticut. Mr. Wall directed the monumental task of organizing the sale of Trolleyville U.S.A. He worked tirelessly to find homes for every car and spare part. He also coordinated the transportation of these items to their final destination. He developed the format of the sale and directed the operation from it's inception to bittersweet completion.
I would like to acknowledge the following people for their tireless effort and support of Trolleyville; Mark. Brookins, James Martin, Dave Carpenter and Roger Peckinpaugh.
The Gerald E. Brookins Museum of Electric Railways (a.k.a. Trolleyville U.S.A.) collection of memorabilia was donated by the Brookins family to the Cleveland State University. The collection includes a multitude of historic books, periodicals and photographs as well as the Morris Stone model streetcar collection. This has proven to be a valuable collection for students and the general public to use in researching the region's transportation history as well as the history of neighborhoods and municipalities where the various streetcar lines operated. The collection is housed in Special Collections at Cleveland State University's Michael Schwartz Library. There is also a finding aid describing the collection (search for "Brookins").
Read Gerald E. Brookins' obituary from the Cleveland Plain Dealer.