The Cuyahoga County Fair Collection
The 2006 Memories of Cleveland Exhibit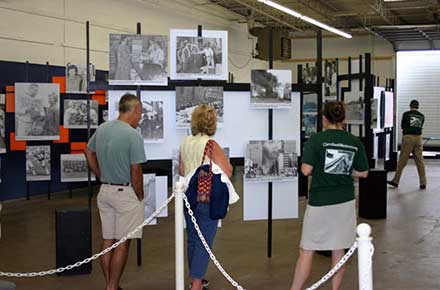 Exhibit visitors with University Library staffer Terri Greer.
As part of the festivities surrounding the 110th Cuyahoga County Fair in Berea, Ohio, the Michael Schwartz Library at Cleveland State University hosted "Memories of Cleveland", a display of over 100 historical photographs depicting Cleveland's most memorable people, moments, places and events.
In addition to these photos, all from the Cleveland Press Collection/Cleveland Memory Project, the exhibit also featured Cleveland memorabilia and video footage of past fairs.
Visitors to the "Memories of Cleveland" exhibit were invited to share their own memories of Cleveland. University Library staff collected audio memories from willing fairgoers onto portable .mp3 devices. The clips collected ranged in subject matter from visits to downtown department stores and holiday shopping to construction of the Terminal Tower. One participant even sang a rendition of the "Mr. Jingeling" theme song.
Visitors were also asked to write what they remembered most about Cleveland or their impressions of the exhibit in a "Memories of Cleveland Memory Book".