Messing About in Boats: The Amazing Adventure of Bob Manry
Site Credits & Appreciation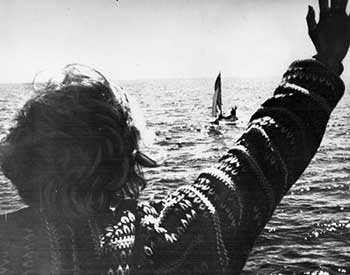 Virginia Manry waves to her husband, Robert Manry, 1965.
More than anyone -- excepting Robert Manry himself -- this site owes its existence to the imagination, hard work and perseverance of Cecilia Hartman, who exceeded the requirements for her Kent State University School of Library and Information Science practicum performed here at the Cleveland State University Library during the summer of 2005.
We are tremendously gratified by the support from Robert Manry's family in the making of this site. Douglas Manry was very kind in permitting us to publish an e-book edition of Tinkerbelle, his father's account of the voyage. John Manry, Robert Manry's brother, provided the digitized movie made around Robert Manry's own film of the voyage and Louise Manry, Robert Manry's sister, provided interesting and useful information related to his return trip home.
The Northeast Ohio Broadcast Archives (NOBA), at the John Carroll University Department of Communications, provided the archival footage of WEWS reporter Bill Jorgensen's interviews with Robert Manry at sea. Our thanks to Dr. Alan Stephenson and Jennifer Wallace of the NOBA and Dr. Charles Zarobila, Curator of Special Collections at JCU, for their assistance.
Mr. Manry's log book excerpts are courtesy of the Western Reserve Historical Society Library. Our thanks to Steve Doell, Curator of Manuscripts, for his assistance in making them available.
Michael Roberts' article on the voyage is courtesy of Cleveland Magazine. We thank Mr. Roberts and Lute Harmon, Chairman of Great Lakes Publishing, for allowing us to make it available here.
Doreen Ashbolt, for generously donating the William Ashbolt Collection of cherished images from her late husband's days as photo editor of the Plain Dealer, including many photographs from his 1965 assignment covering the arrival of Robert Manry and Tinkerbelle in Falmouth harbor in England.
The rest of the photographs in the Cleveland Memory Project's CONTENTdm image database were taken from the Cleveland Press Collection at the Cleveland State University Library. The editorial cartoons were from the Ray Osrin and the Bill Roberts editorial cartoon collections at the Cleveland State University Library.
Cecilia Hartman's son, Bill Shepardson, assisted in preparing the video and the "heavy lifting" in the back room for video preparation was performed by the Library's Systems and Instructional Media Services units, particularly Russ Rucky, Jeff Beuck, and Al Nozak.
In addition, Ms. Hartman tells us that she wishes to thank everyone named above as well as everyone involved with the production of this site, including Joanne Cornelius, Supervisor of the Digital Production Unit at the CSU Library, for her support and encouragement, as well as for training her on various procedures she employed, to T.J. Breslin, who helped with special scanning skills, and to Bill Barrow, Special Collections Librarian, for sponsoring her in this practicum project.