Cleveland State University: Neighborhood Survey and Property Appraisals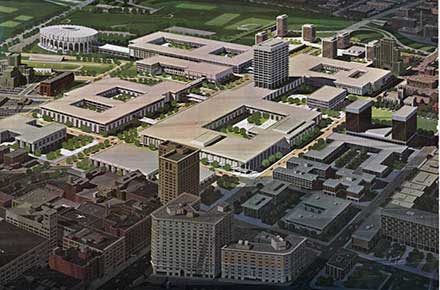 Drawing of CSU's original campus master plan.
The images in this collection are from two record series in the CSU Campus Planning Office Collection. In 1965 Trustees of the newly created Cleveland State University contracted with Cleveland architectural firm, Walker and Weeks, to conduct a structural survey and building inspection of surrounding downtown neighborhood properties. The surveyed area comprised 43 city blocks between St. Clair Avenue on the north; East 30th Street on the east; Carnegie Avenue on the south; and East 13th Street on the west.
This site includes 729 photographs taken by the survey teams of most of the parcels containing structures on them. Also included in this collection are photographs from property appraisals prepared for the University by independent real estate appraisers on various parcels of lands purchased by CSU.
Indexes of Images