Ethnic Women of Cleveland
Eleanor Popek Oral History
Eleanor Popek interviewed by Jeanette E. Tuve February 18, 1986 as part of Ethnic Women of Cleveland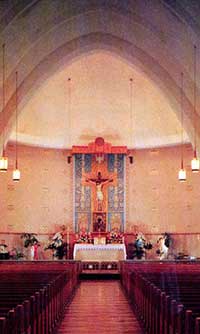 Interior of Our Lady of Czestochowa Church.
Eleanor (Grabowski) Popek grew up as a first generation American in Cleveland, Ohio. She speaks about growing up in the Corlett section which was in the Harvard and E. 141st area. She attended Our Lady of Czestochowa Church and speaks about the Polish customs that they followed and belonging to the Harcestwo (Polish Girl and Boy Scouts). Mrs. Popek and her husband Mitchell owned the Mountain Garden Tavern on E. 75th and Union and her son, Ronald Popek, was involved in local politics. She was involved in the American Polish Women's Group and the Orchard Lake group. She talks about her fundraising efforts for Polish organizations and politics.
For Further Reading
Credits
Digitizing of the transcripts and audio files and preparation of the html version of the transcripts was performed by Sofia Vassenovitch, as part of her practicum project in the School of Library and Information Science, Kent State University, during the Summer term, 2006. She performed this practicum in Special Collections, Cleveland State University Library.
Thanks to Joanne Cornelius and the staffs of the Library's Digital Production Unit and Systems Department for their assistance.
Our thanks go to the Women's Comprehensive Program and the History Department, both of the Cleveland State University, to the George Gund Foundation for their assistance and permissions in producing this site.
Permission & Rights
These digital transcripts and audio files are the property of Cleveland State University and short extracts may be used for academic and private research purposes only. No significant reproduction of this digital edition, and no commercial use in any amount or form is permitted without express written consent of the university.
Any permitted use of this edition must credit the Cleveland State University Library as the source.
Disclaimer
Although every effort was made to ensure the accuracy of these transcripts, as measured against the original print version, we do not guarantee that it is an identical copy. Where the original print transcript and the recording differed, we chose to retain the wording of the original transcript.
Furthermore, we have made minor modifications of layout and other changes to enhance the digital presentation of this work that we believe make the web edition easier to use than a literal replication of the print edition would provide. None of these additions or changes detract from the intellectual integrity of the original work.
Cleveland State University holds the copyright to the original work (see permissions), as well as this digital edition.
We hope you enjoy this work and find it valuable.