Euclid Beach Park
Bad Publicity
Dance Hall and Coaster (a view of the Aero Dips at upper right).
No amusement park operates without accident or incident. Euclid Beach was no exception as throughout its decades of operation, mishaps occurred, patrons were injured or killed (most often the fault of patrons who did not follow park rules)1, and incidents of violence transpired. The Humphreys did their best to avoid bad publicity, and when accidents did occur, the park operators took great pains in order to minimize the fallout.
One incident, involving a ride called the Aero Dips, was not the fault of unruly riders, but was due to failure by the train to brake as it approached the loading area, consequently causing the train to jump the track on the sharp turn that followed. This resulted in many injuries and did damage to the platform and the train.
The incident happened near closing time, so once the area was roped off and the injured were removed, the crew spent the night repairing the damage to make it look like nothing happened. They even went so far as to add dust to the concrete and use a special batch of faded paint to repair the platform. The next day, visitors who hoped to see the scene of the accident arrived to find nothing out of the ordinary.2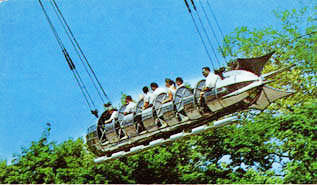 One of the Rocket Ships (cables intact).
Of course tales of park accidents did persist by word of mouth and some of these went on to become urban myth. Take, for example, the story of the unfortuante passengers who were on board one of the Rocket Ships when the cables broke. The alleged passengers and rocket ship were then hurled into Lake Erie. This story is not true, though many Clevelanders, who remember Euclid Beach, believe it is.3
One sad but true chapter in the park's history was the race riots/protests of the 1946 season. Euclid Beach Park, like many businesses and institutes of the time, prevented the intermingling of blacks and whites in certain social circumstances. Protests against this discrimination and incidents of scuffles, a beating and a shooting that summer resulted in the closing down of Euclid Beach for the rest of the summer. When the park was forced to change its practices4, Euclid Beach circumvented the ruling by privatizing the dance hall, roller rink, and refusing to open the bath house all together during the 1947 season.5
1Amusement Park Books, Inc. Euclid Beach Park is Closed for the Season. (1977):142.
2Ibid., p.143.
3Ibid., p.101-102.
4"End to Euclid Beach Racial Trouble Sought," Stamped: Sept. 23, 1946, Cleveland Press Collection.
5"Euclid Beach Opening Skips Dancing, Bathing," Cleveland Press, Stamped: April 14, 1947, Cleveland Press Collection.