Euclid Beach Park
Closed for Good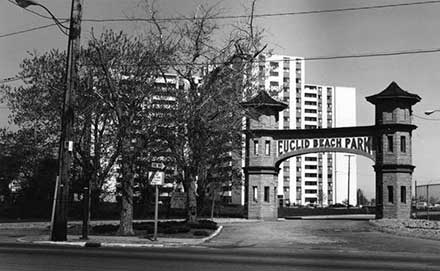 Euclid Beach entry arch post-closing.
Everything comes to an end and so it was for Euclid Beach Park on September 28, 1969. Taxes on the site were too great and the revenues too small.1 Eighty-eight years after saving the park from its first brush with death, the Humphrey Family had to close Euclid Beach for good. There would be no last minute reprieve as there was before; the park had been losing money for at least five seasons leaving the Humphrey Family with no other option. Many of the smaller attractions were sold off or moved to the short-lived Shady Lake Park operated by the Humphrey Family in Portage County.
Remains of pier and fountain at Euclid Beach.
With the closing of the gates, the slow deterioration of the remaining structures began. Much debate ensued about the fate of the lakeside property. Developers sought to rezone this almost holy site east of Cleveland for residential use. A trailer park and a high-rise apartment complex were among the intended uses of the now defunct Euclid Beach property. Other parties envisioned creating recreational green space with access to the lake but nearby residents were afraid such a public space would attract unwanted visitors to the area.
It was during this period of indecisiveness that arson and vandalism brought down several of the remaining structures in the park including the funhouse, the old log cabin, and the Whip.2 In the end, all three projects would come to fruition eradicating nearly every trace of Euclid Beach's existence from the landscape. Today, the remnants of a swimming pool and the Euclid Beach entrance archway are all that remain.
1Kelly, "1966 Last Year for Euclid Beach?," Cleveland Plain Dealer, Stamped: August 27, 1965, Cleveland Press Collection.
2Alan Moats, "Euclid Beach Fire Destroys Fun House, Draws Protests," Cleveland Press, Stamped: December 28, 1971, Cleveland Press Collection.