The Greater Cleveland Ethnographic Museum Collection
History of the Museum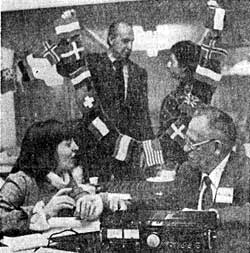 In room 137 of the Arcade, headquarters for the Greater Cleveland Ethnographic Museum, Inc., Patricia Shaw conducts and oral interview with Willi Jung, who was active in German Affairs. In the rear are William Gbur & Annette B. Fromm. (Press Photo by William Dillard)
NEW: The Greater Cleveland Ethnographic Museum: The Life and Afterlife of a Public Folklore Organization Published in October 2020 by Timothy Lloyd, American Folklore Society.
In 1975, more than one hundred people came together to establish The Greater Cleveland Ethnographic Museum (GCEM) in order to create and display exhibits showing the cultural history of Cleveland for the American Revolution Bicentennial. This group wanted to see the cultural heritage of Cleveland represented in the festivities for the bicentennial. To meet this objective, a committee began recording oral histories as part of the Greater Cleveland Bicentennial Oral History Project for the exhibit. With financial assistance from the City of Cleveland and the Western Reserve Historical Society, the four-month long exhibition was kicked off in July 1977 at the Western Reserve Historical Society.
The Greater Cleveland Ethnographic Museum received approval to become a non-profit corporation on October 14, 1976. It was incorporated as a 501c nonprofit organization under Ohio state law which established its name as The Greater Cleveland Ethnographic Museum, Inc. The original purposes of the museum included the following:
To collect artifacts which are representative of Greater Cleveland's nationality groups and ethnic heritage of the past and present.
To collect, via audio and visual devices, oral traditions, folklore, songs, music, ritual customs, dance, and other oral and physical manifestations of the cultures, and experiences of said nationality groups and their ethnic confreres.
To preserve said collected artifacts and devices for posterity.
To display and utilize said artifacts and devices for the enjoyment of the general public.
To research and document said artifacts and devices for their historical significance.
To engage in cultural and educational activities.
The Greater Cleveland Ethnographic Museum opened its permanent gallery space at The Arcade in 1977. The museum was thus created as a way to preserve and transmit elements of traditional life, especially the folk arts, to others in the community. While the museum was open, it captured the traditions of Cleveland residents by recording oral histories, collecting cultural artifacts, recording folk music, photographing traditional festivals and religious rituals, and showcasing their collections in their gallery in The Arcade as well as through traveling exhibits.
The museum remained open until 1981 when it disbanded. Dr. Edward Miggins became the custodian for the Greater Cleveland Ethnographic Museum collection which included tapes, transcripts, photographs, and artifacts. These items were later deposited in the Greater Cleveland Community Studies and Oral History Center in 1989. The remainder of the collection was deposited at the Western Reserve Historical Society.