Postcards of Cleveland
About This Collection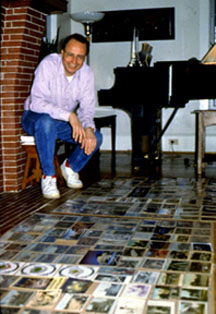 Walter Leedy began his comprehensive collection of Cleveland postcards, now numbering nearly 8,000 in earnest in 1989. The earliest of Leedy's postcards date from 1898, before many people traveled widely, had telephones, or saw movies or newsreels, and before newspapers ran many illustrations.
Buying a picture postcard was an affordable treat common to all social classes, and collecting postcards often became a hobby. Even Queen Victoria was an avid collector.
Leedy realized the unique value picture postcards could have to him as an architectural historian, permitting him to observe the changing urban environment, or to visually recreate what a neighborhood looked like. His collection is especially rich in interior views because they capture spaces designed for the rituals of daily life.
As Leedy puts it, "I don't really collect postcards-I collect images of life, moments in time. Nostalgia glues people to postcards. There is something intimate and direct about them. As an art historian, I think of postcards as a vehicle to introduce art to the millions-people aren't intimidated by postcards the way they might be by paintings or other 'fine' art."
While most postcard collectors favor pristine examples, Leedy enjoys the documentation contained, for example, in a traveler's comments to his friend far away about Cleveland visiting Garfield's tomb in Lake View Cemetery. As postcard collections go, Leedy's ranges from common examples to the truly rare and extraordinary.
Major highlights include several 32 inch long panoramas of Cleveland, and major people in Cleveland's popular history, such as Bob Feller and Satchel Paige, starting pitchers for the 1948 World Champion Cleveland Indians.
The power of postcards was demonstrated by the Van Sweringen brothers: their carefully timed mass distribution of a postcard brochure, detailing the benefits of their Terminal Tower site as the preferred home of Cleveland's railroad station, persuaded a slight majority of voters in January 1919 to favor the development that resulted in Cleveland's key land mark and transportation hub. Postcards celebrating Cleveland's industry include pictures of the Hulett ore unloaders in their heyday.
No aspect of life is untouched by postcards in Leedy's collection, including illness and death: along with numerous pictures of hospitals and cemeteries are advertisement for casket delivery and on-the-scene images of the tragic Collinwood school fire and its aftermath-the disaster that gave rise to modern building codes for emergency exits and procedures. The flood of 1909 is commemorated in a trick-photography image of a steamship floating down Euclid Avenue.
One of the newest series features art by young artists by the Willowick company NuVista Postcards, an example of which is a Christmas-theme card based on a Mentor 5th grader's "My idea of Cleveland's Twinkling Kingdom." Also of interest to young viewers is the story of Minnie, the zoo's first elephant. She was purchased with pennies sent to the zoo by Cleveland's children.