Stereoscopic Images of Cleveland in 3-D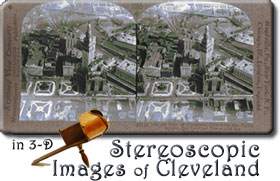 The following images are scenes taken from historic stereoview cards showing Cleveland and the wider Great Lakes industrial region and converted into 3-D images.
To be able to view the full effect of the 3-D renderings, anaglyph 3-D glasses (red/cyan) are required. Find out more about anaglyph images from Wikipedia.
Browse steroscopic images by:
Subject
Companies
Geographic Location
Credits
Tanya Tahsler typed the text into the 3-D database and Bob McDonald converted it to html, scanned the images and generally brought the whole work together. Bill Barrow provided oversight and added some final enhancements. All were/are members of the Special Collections staff at the Cleveland State University Library.
Thanks go to Mr. David Neuhardt, for loaning stereoview images from his personal collection for inclusion in this site. The majority of the images otherwise seen here belong to Bill Barrow.
Permission & Rights Concerning this Web Edition
The Michael Schwartz Library at Cleveland State University makes no claim as to ownership of the original copyright to the images shown on this site.
This digital version, however, is the property of Cleveland State University and short extracts may be used for academic and private research purposes only. No significant reproduction of this digital edition, and no commercial use in any amount or form is permitted without express written consent of the university.
Any permitted uses of this digital edition must credit the Michael Schwartz Library as the source.
Disclaimer For This Web Edition
Although every effort was made to insure the accuracy of these images, as measured against the original stereoview cards, we do not guarantee that it is an identical copy. Indeed, in some instances we determined that minor modifications of layout and other changes would enhance the digital presentation of these images and were incorporated.
We do not represent that we hold any copyright to the original works (see permissions), or any photographs appearing here — just these digital editions.
We hope you enjoy this work and find it valuable.
Cleveland State University holds the copyright to the original work (see permissions), as well as this digital edition.
We hope you enjoy this work and find it valuable.