German Americans of Cleveland
Cleveland Press Articles
Pastor Fought for 1st Yule Tree
"100 Years of Nationalities in Cleveland"
24th of a Series
By Theodore Andrica
Cleveland Press, date unknown
Now that the first winter storm has hit and Christmas is approaching with a seemingly amazing speed, it is good to know that it was a Cleveland German clergyman who made the Christmas tree an integral part of Christmas in America.
He was Heinrich Christian Schwan, a native of Horneburg, a province of Hanover, Germany, who came to Cleveland in 1851 to take over the pastorate of Zion Lutheran German Church, Erie (E. 9th) and Eagle Sts.
Pastor Schwan was born in 1819 and after graduating from the universities of Goettingen and Jena in 1838, he entered a theological school and was ordained in 1843. Immediately he left for missionary work in Leopoldina, Brazil. There he married Miss Emma Blum in 1849 and the two came to the United States, first serving in Black Jack, Mo., and then in Cleveland.
First Appearances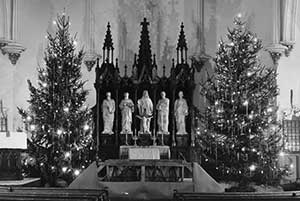 Christmas trees in the Chancel of Zion Lutheran Church
Rev. Schwan's first Christmas with his new congregation in Cleveland proved later to be a memorable one, since it was then in the winter of 1851 that he introduced the first Christmas tree in his gabled, small church building.
It was not much of a tree but it was lighted with candles and decorated with colored paper chains, pasted together with flour. A few walnuts and apples were also tied to the branches.
The Christmas tree stayed in Pastor Schwan's church for two Sundays, then to avoid open quarrel, he removed it into his own back yard.
Fights for Tree
Rev. Schwan then began his missionary work in behalf of the Christmas tree. He told his congregation and his Cleveland friends that in Hanover, where he came no Christmas was complete without the lighted and decorated fir tree.
He wrote his fellow clergymen in various parts of the country telling them of his difficulties in introducing the Christmas tree in Cleveland. He received several reassuring letters in which he was told that lighted Christmas trees were seen in other Christian countries, too.
Villages along the Rhine observed the custom already in the 17fh century, Finland had its first tree in 1800, Denmark in 1810, Norway in 1828, Vienna in 1817, Sweden in 1817.
Gets Wooster Backer
The most reassuring letter Pastor Schwan received was from Wooster, Ohio. In it he was told that a German youth of that town, August Imgard by name, had introduced the Christmas tree in his home in Wooster in 1847 and that he had no difficulty with anybody about it.
Neither Imgard nor Pastor Schwan knew that decorated Christmas trees were used in Philadelphia, in 1834, in Fort Dearborn in 1804 and in Rochester, N.Y. in 1840, but none of the places did the innocent tree create any impression nor inspire imagination.
Once reassured that the Christmas tree was not of pagan origin, Pastor Schwan became a self-appointed missionary for its wider use during the Chstmas season.
Pastor Schwan eventually became among the most noted Lutheran clergymen of America and served for many years as president of the Evangelical Lutheran School of Missouri [sic*]. His pastorate at Zion Church in Cleveland ended in 1888.
The golden jubilee of his pastorate here was celebrated with great pomp in 1893 in the Music Hall on Vincent St. He has three sons: G. C. Schwan and G. H. Schwan, attorneys, and Rev. Peter Schwan, former pastor of the Willson Avenue Lutheran Church.
[*Per one of our Cleveland Memory Project website visitors, there is no such entity as the "Lutheran School of Missouri", and Mr. Andrica should have written that Pastor Schwan served for many years as the as president of the "Lutheran Church–Missouri Synod (LC-MS)".]