German Americans of Cleveland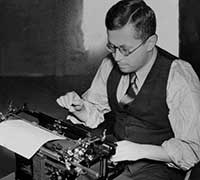 Theodore Andrica at work, 1938.
Cleveland Press Articles
Theodore Andrica, former columnist for the Cleveland Press, wrote a series of articles on the various nationalities living in Cleveland and their influence on the development of Cleveland. The article series provide an insight into the social, cultural, and professional lives of individuals and their contributions to the city.
The following articles, focusing on German Americans, have been reproduced here.