German Americans of Cleveland
Business & Industry
Click on

to see images from the Collection.
Click on

to read a Cleveland Press article.
Germans were prominent in the business community establishing bakeries, breweries, newspapers, retail stores, and savings and loan associations as well as other enterprises.
Some of the businesses founded by Germans include: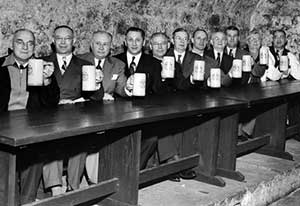 Group of brewery employees hoist a toast in rathskeller at Leisy Brewery, 1952.
More about Cleveland breweries
.
Some German American inventors of note from Cleveland include:
Martin Bauer, inventor of the safety elevator ladder.
Oscar Kroehle, originator of pre-wrapped bread.