Euclid Beach Park
A Brief History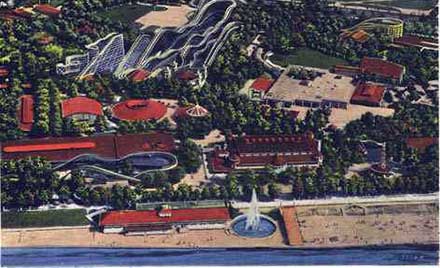 Aerial View Of Euclid Beach Park.
View image
.
Opening for its first season in 1895, Euclid Beach Park consisted of all the typical elements. The park, however, failed to find financial success with its roster of average attractions and average entertainment. It would take the entrepreneurship of the Humphrey Family, operators of a popcorn stand at Euclid Beach, to transform the ordinary into the extraordinary.
Assuming control of park operations beginning with the 1901 season, the Humphrey Family revamped the park's respectability, turning it into a financial success by summer's end. The beer garden was removed, dress codes were enforced, and other questionable behavior was eradicated from the grounds. Euclid Beach Park was a respectable destination for all of those looking for a retreat from life: even if for just a few hours.
Timeline of Events1
Date
Event
Oct. 23, 1894
Park incorporated
1896
Humphrey Family operates a popcorn stand at the park
1899
Humphrey Family end popcorn business at Euclid Beach
May 27, 1901
Humphrey Family takes over Euclid Beach
1904
 The Roller Rink was built
The Figure Eight rollercoaster was built
1907
Scenic railway constructed
1910
Carousel installed
1914
Land acquisition for park completed
1921
The entry archway is constructed
1923-1924
The Thriller rollercoaster built
June 14, 1925
Bath house opened
1930
The Flying Turns amusement ride installed
Sept. 7, 1933
Dudley S. Humphrey II, owner and operator of Euclid Beach passed away
August 23, 1946
Race riot2
1963
Daily service from Public Square to Euclid Beach ends3
1964
Park starts to lose money4
Sept. 28, 1969
Park closed
1973
Archway entrance declared a historic Cleveland landmark5
Sept. 2005
Old Humphrey Mansion demolished6
Times and tastes would change but Euclid Beach would remain. While other Cleveland amusement parks such as Luna Park, White City, and Forest City folded, the Humphrey Family would continue to operate Cleveland's playground to the east offering a variety of sights and attractions for the public to enjoy for the next six decades.
Euclid Beach owner & operater, Dudley S. Humphrey II poses with his granddaughter (and chickens).
View image
Harvey Humphrey, Louise Humphrey, Clarence, and Russ near a Pure Cream Candy stand.
View image
1Unless otherwise footnoted, all dates are from the book Euclid Beach Park is Closed for the Season by Amusement Park Books, Inc.
2Case Western Reserve University, "Euclid Beach Park Riot," Encyclopedia of Cleveland History, http://ech.case.edu/ech-cgi/article.pl?id=EBPR.
3"Daily Runs From Square to Euclid Beach to End," Cleveland Plain Dealer, Stamped: April 24, 1963, Cleveland Press Collection.
4"Euclid Beach Park to Close in 1969," Cleveland Press, Stamped: June 8, 1968, Cleveland Press Collection.
5Case Western Reserve University, "Euclid Beach Park," Encyclopedia of Cleveland History, http://ech.cwru.edu/ech-cgi/article.pl?id=EBP.
6Michael O'Mara, "City of Cleveland misses important deadline: Old Humphrey Mansion demolished," http://archive.wkyc.com/news/story.aspx?storyid=40816, Posted: September 16, 2005.