Fenn College On-Line
Fenn College School of Business Adminstration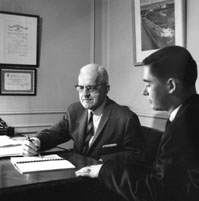 Paul R. Anders, Dean of Business Administration
.
The School of Business Administration provides training and experience designed to qualify its graduates for the multiple responsibilities of business, civic, and personal life. Each student is introduced to the humanities and the social sciences. He studies the principles of economics requisite to the successful conduct of business. He becomes familar with government and law as they affect industry and commerce. Statistical methods and other tools are acquired. Each learns the fundamentals of accounting, marketing, finance and management. Upon this broad foundation, he builds professional adequacy for his chosen field of business specialization.
The Bachelor of Business Administration degree is conferred upon satisfactory completion of requirements outlined for the following major field of study:
Accounting
Business Education
General Business
Management
Marketing
Secretarial Studies
In addition to these six degree programs, the School of Business Administration offers pre-law training.
Degree Requirements
DEGREE REQUIREMENTS
The School of Business Administration confers the Bachelor of Business Administration degree (B.B.A.) upon satisfactory completion of the following requirements:
Volume of work - A minimum of 190 credit hours of academic work plus cooperative work experience as specified.
Quality of Work - An accumulation of quality points totaling 2.0 times the number of credit hours taken.
Distribution of Work: A minimum of 76 credit hours (40%) shall be earned in business and economic subjects, and a minimum of 76 credit hours in subjects other than busimess and economics, provided that economics principles and economic history may be counted in either the business or non-business groups.
Major Field - Each student chooses a major field at the beginning of his sophmore year; however, this choice may be changed at the beginning of the pre-junior year with the consent of the program advisers. Consultation with members of the faculy and staff is helpful in making a selection.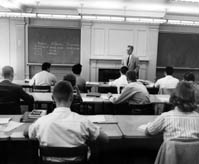 Professor Wilfred Ahrens - Accounting Class.
ACCOUNTING - The accountant, whether in public industrial, or governmental accounting, installs systems, supervises financial procedures, makes audits and investigations, prepares taxes and other reports and assists in general organization. The accounting major needs to master accounting procedures and have a broad understanding of the principles of management, finance and marketing.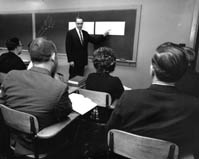 Robert Buss - Finance class.
BUSINESS EDUCATION - The Business Education program prepares one for teaching business subjects in high schools and other educational institutions. The curriculum includes a background in finance, personnel, economics, business law, and research, in addition to the usual school training secretarial work. Also included are courses in education required by the State for the issuance of a techer's certificate.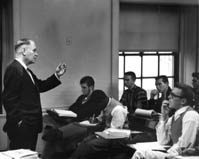 Dr. Clyde J. Crobaugh - International Economics class.
GENERAL BUSINESS - The General Business program offers broad training in economics, marketing, finance, accounting, and management. The program is flexible, permitting specialization as individual interests crystallize. General Business training is particularly useful for students who plan to start a small business, and those interested in business management on the executive level.

Dr. John G. McGrew - Economic class.
PRE-LAW CURRICULUM - Admission into a school of law requires previous college training, ranging from three to four years. Many future lawyers choose to do their pre-law study in the field of business, realizing that a grat volume of law practice concerns itself with business matters. The formation and re-organization of corporations and partnerships, investments, estates, trusts, bankruptcy and receiverships - all require a grasp of commercial principles. Many law-trained men enter the employ of banks, public utilities, and other corporations. For all these, pre-law training in a collegiate school of business is a logical choice. The General Business Program is recommended for this purpose. Pre-law students should register as such with the program's advisor during their sophmore year in order that their schedule of study may be planned to meet law school requirements.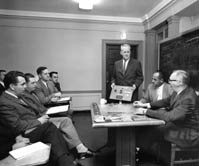 James J. Wall - Industrial Purchasing class.
TRANSPORTATION CURRICULUM - The traffic departments of industry and the transportation companies both call for men trained in the economics, procedures, and regulations which apply to the movement of raw materials and finished goods. The more responsible positions in transportation require such training, as well as knowledge of business in general, the ability to work with people, and a facility in self-expression. The School of Business Administration offers in its Evening Division a sequence of courses in motor, rail, and air transportation, also transportation law and laboratory training in rates and tariffs.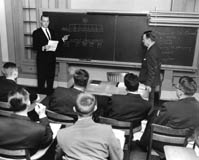 Lawrence J. Everet - Management class.
MANAGEMENT - A Program for students interested in factory and office management and/or the administration of personnel and industrial relations. Areas of study include plant and office controls and records, production planning and control, equipment, materials handling, location and layout. Students particularly interested in personnel work might choose elective courses in the field of industrial psychology and pyschological testing.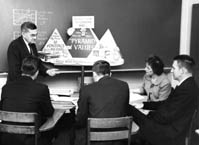 Professor Vance Chamberlain - Marketing class.
MARKETING - Marketing is the distribution of goods and services from manufacture through purchase and use: a study of people and their buying habits and of influences upon product design. Marketing is the creation of strategies for marketing research, sales management, advertrising, and promotions of many types. Marketing is a high-level executive responsibility that includes test market studies to determine dollar profit potentials and to check performance mathematically.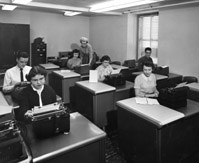 Professor Pauline Bloomquist - Secretarial Studies class.
SECRETARIAL STUDIES - The Secretarial Studies program at Fenn is designed primarily for students seeking a business career and executive secretarial responsibility. The program includes ground work in finance, personnel, business law, economics, and research, in addition to the usual skill training in secretarial work. Electives provide background in literature, psychology, philosophy, history, and other arts and sciences subjects.