Fenn College On-Line
Fenn College Cooperative Education Department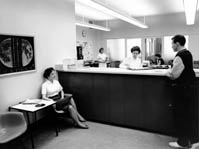 Cooperative Education Office, Fenn Tower
.
Administration of the Cooperative Plan at Fenn is in the hands of the Department of Cooperative Education, which works closely with the academic deans, the Admissions Department, department heads, faculty, and administration of the college. Co-op Department Coordinators counsel students, establish and maintain contacts with employers, carefully pre-select qualified applicants for jobs, and keep in close touch with each students supervisor during his term of employment. The Cooperative Education Department also administers an extensive program for finding employment opportunities for graduates, Evening Division students, and alumni.
Cooperative Education is a working partnership between a college and its students with industry, business, the professions, and government agencies. Since the first such partnership was formed in 1906 at the University of Cincinnati, the idea has been so warmly and so generally welcomed that now more than fifty colleges in the United States are either entirely on the Cooperative Plan, as is Fenn, or offer it as an option in certain curricula.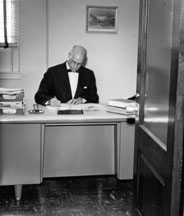 Robert Britten Auld, Director of Coooperative Education
.
Simply stated, cooperative education is an essential part of the degree requirements that combines college training in theory with alternating periods of practical work experience in the student's major field. Cooperative jobs are genuine work assignments for which the student is paid the going rate. Thus, the student is able, through his earnings to pay a large part of his college expenses.
Employers often use the cooperative education system as an economical means of finding well-trained permanent personnel. As a result of the plan, an average of 50% of students remain with their cooperating employers after graduation. Perhaps some of the reasons for this are that students have been carefully pre-selected, they have demonostrated potential during at least two or three quarters of work, they have been oriented, counseled, and tested to the work situation. They produce even while learning, for they are paid only what they are worth as workers; and they are motivated to make good because a successful work record is a requirement for graduation. Many employers have also reported a beneficial and steading influence of cooperative students on young co-workers who have caught the idea of self-improvement, often being led to take correspondence or night courses.